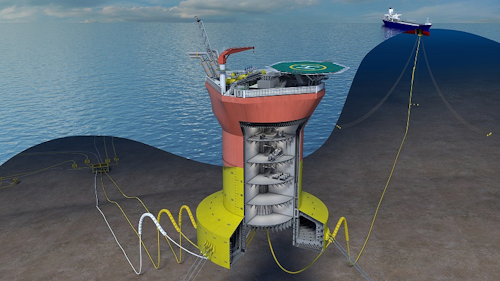 Offshore staff
ABERDEEN, UK – An international group is collaborating on a project to determine whether a new-concept reusable production buoy could be applied to smaller North Sea oil and gas reservoirs.
Crondall Energy developed the technology and its subsidiary Buoyant Production Technologies is managing the study, co-funded by the UK's Oil & Gas Technology Centre, Premier Oil, Total E&P UK, Lloyd's Register, Siemens, Wärtsilä, Ampelmann, and BW Offshore.
It will explore the feasibility of a floating normally unattended installation (NUI) as a stand-alone oil production system for marginal fields in a North Sea environment.
Duncan Peace, managing director of Crondall Energy, said: "New process and automation technology is playing a critical role in reducing the size and cost of offshore facilities and reducing the offshore man-hours required for their operation and maintenance.
"What makes our concept unique is the integration of these process and automation technologies with Crondall's patented floating production concept, to deliver a material reduction in both the size of facilities and the level of manning.
"Together these innovations offer the opportunity to deliver a step change in lifecycle economics."
The main goal is to confirm that the technology can meet the needs of remote operations with acceptable uptime and maintenance requirements.
Crondall said the concept could work with subsea wells to provide the production facilities and utilities required to exploit a field.
The partners will evaluate a generic opportunity for a field in the UK northern North Sea, in 150 m (492 ft) water depth, producing 20,000 b/d of oil with a low to medium gas oil ratio.
In addition, they will evaluate how the results could be applied more widely to development marginal North Sea fields with, for example, a minimally manned compact FPSO.
The study will be conducted in two phases over eight months, to assess the technical and commercial feasibility of the concepts developed.
Siemens' will use the project as an opportunity to demonstrate the benefits of its Topsides 4.0 digital life cycle approach to rotating equipment and to electrical, instrumentation, controls and telecoms.
"On the one hand, there has been a lot of hype about digitalization in the oil and gas industry; on the other hand, oil and gas operators are still waiting to be convinced," said Elgonda La Grange, Director of Digital Solutions for Siemens' Dresser-Rand business.
"This study will demonstrate the lifecycle value of combining digitalization with deep O&G subject matter expertise."
Wärtsilä is looking to apply its Smart Marine Ecosystem vision, which envisages a smart, connected and digitalized approach setting new standards for the industry.
"A smart installation with remote operation ensures optimum use of equipment, a NUI installation will also enhance safety and provide minimal environmental impact," said the company's floating production sales director Stein Thorsager.
08/03/2018