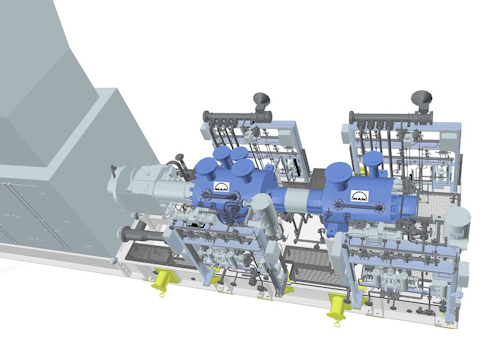 Offshore staff
AUGSBURG, Germany – PTSC Mechanical & Construction has contracted MAN Diesel & Turbo to supply two compressor trains for the Sao Vang and Dai Nguyet gas fields development in the Nam Con Son basin offshore southern Vietnam.
The two trains will be used to export gas from the offshore platform to the receiving terminal onshore at Dinh Co.
Japan's Idemitsu Kosan is the operator of the new platform.
MAN will supply two booster + export gas compression trains, each comprising two RB35 barrel-type compressors driven by a 13MW gas turbine from Solar Turbines.
The compressors' dry gas seal system will employ technology features of MAN's U-Pac solution.
The equipment will be tailored to the future field conditions so that a replacement back-to-back arrangement can be accommodated in the current inline casing.
MAN will perform manufacturing in Zurich, Switzerland. Both trains will then be string tested at the company's multi-purpose open air test facility in Oberhausen, Germany.
Following delivery in spring 2019, the company's branch in Kuala Lumpur will handle installation and commissioning in Vietnam.
03/13/2018