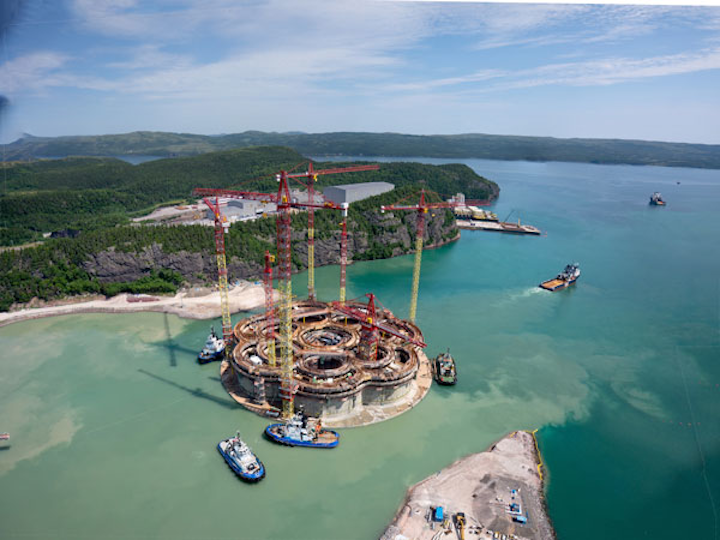 Offshore staff

HOUSTON –ExxonMobil's Hebron platform is expected to be towed out within the month from Bull Arm fabrication yard, located near St. John's, Nalcor Energy company officials told Offshore.

From there, Hebron's reinforced concrete gravity-based structure (GBS), designed to withstand sea ice, icebergs and other harsh environmental conditions, will head to its worksite in the prolific Jeanne d'Arc basin. Water depths at the field are about 93 m (305 ft); it is estimated to have about 700 MMbbl of recoverable resources.

The yard was originally established for the GBS of another Exxon project located off Newfoundland and Labrador, Nalcor Energy VP of Business Development Chris Kieley explained. The Hibernia project's GBS is said to be Canada's largest offshore platform; the gravity base and wellhead module, and other components were built at Bull Arm, where hook-up and final assembly were also performed.

However, since 2011, parts of the Hebron project's platform have called the yard home, where milestones like the construction of the 600,000-metric ton (661,387-ton) GBS; the fabrication of the 3,400-metric ton (3,748-ton) living quarters; and the integration of the topsides modules all occurred.

The Bull Arm yard sprawls out over 6,300 acres (9,308 H), with more than 23,000 sq m (247,570 sq ft) of enclosed facilities and more than 500 m (1,641 ft) of wharfage. Located on a protected port, it has three key theaters: a marine facility, fabrication yard, and a deepwater site, which is where the Hebron platform is sitting as it awaits its eventual tow-out.

The marine facility includes a dry dock, which was used to build the Hebron and Hibernia platforms, as well as five quays and warehouses to support platform construction. It also has a fabrication building and several multi-purpose industrial buildings. The deepwater site, which provides access to international shipping lanes, has a ferry terminal, laydown area; along with power supply, telecommunications facilities, and water connections. The fab yard has a module hall with two 75-metric ton (83-ton) cranes; a receiving quay; a cutting shop and assembly hall; a pipe shop; and other facilities.

Kieley also revealed that multi-million dollar upgrades were recently performed to the Bull Arm during the Hebron project, including an overhaul of the road system and other facilities.

The entire yard has been leased to ExxonMobil during the Hebron project. As the structure moves on to its destination offshore St. John's, Kieley said the site has put out expressions of interest as it looks for its next opportunity.

Along with Hebron and Hibernia, other notable projects from Bull Arm include the fabrication of what is said to be one of the largest FPSO ever built, Terra Nova, and the re-fit of the Henry Goodrich semisubmersible.
05/03/2017