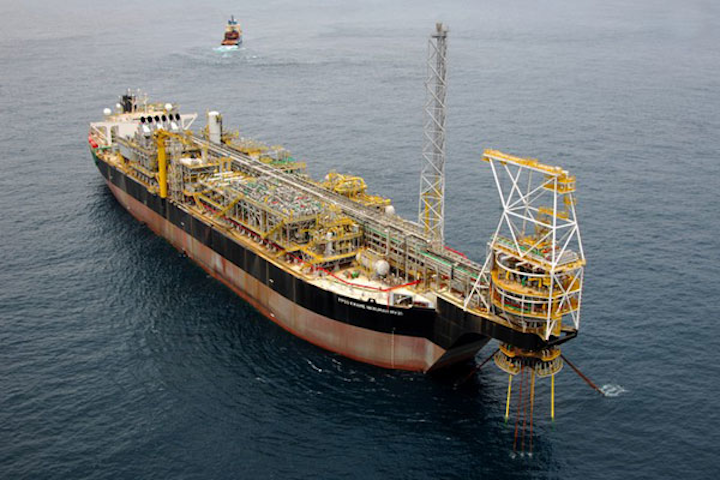 Offshore staff
LONDON – The interim spread mooring of the Jubilee FPSO offshore Ghana was completed in February, according to operator Tullow Oil, and the vessel is now anchored to the seabed.
The partners were obliged to alter themooring arrangements after identifying issues with the turret bearings last year.
Currently they are in discussions with Ghana's government on stabilization procedures for the turret and the final heading of the FPSO.
Final decisions should follow around mid-year, with rectification work to be performed during the second half of 2017. This could entail a shutdown of the facility of up to 12 weeks, although the partners are looking at ways to limit the impact.
As for theGreater Jubilee full field development plan, Tullow expects to re-submit proposals in mid-year with approval following later in 2017, allowing development drilling to start in early 2018.
Data from a recently completed 4D seismic survey will serve to optimize the location of the wells and to assist with ongoing reservoir management.
Production from thedeepwater TEN field averaged around 50,000 b/d during 1Q, with higher levels achieved at times in facility optimization trials.
In February, the final oral hearings took place at the International Tribunal for the Law of the Sea (ITLOS) concerning the disputed maritime border dispute between Ghana and Côte d'Ivoire. This has caused development drilling at TEN to be suspended.
During the proceedings the Chairman of the Tribunal indicated that a final ruling was likely around the end of September.
In the UK southern North Sea, Tullow has completed the second phase of the Horne & Wren decommissioning project with the successful removal of the unmanned platform.
04/26/2017