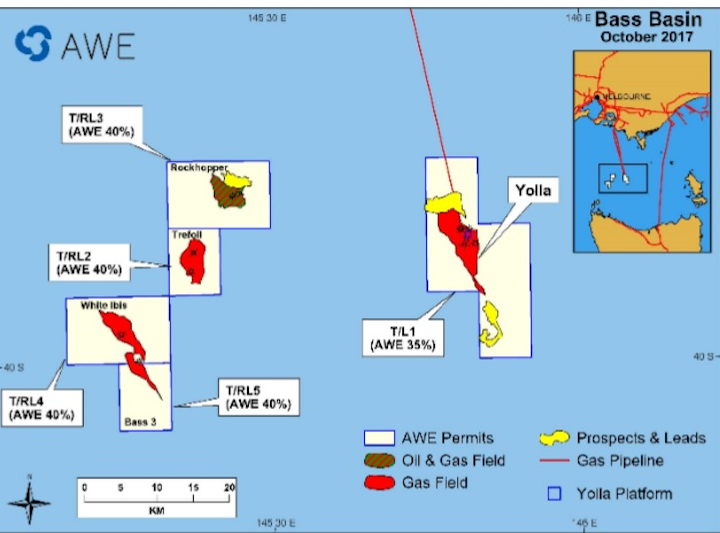 Offshore staff
SYDNEY, Australia – AWE says that field development studies continue for the Ande Ande Lumut (AAL) oil field project in the northwest Natuna Sea off Indonesia.
The present focus is on optimizing on drilling and completions for the K and G sands resources, while minor modifications are under review to the FPSO processing infrastructure to maximize comingled production from the two reservoirs.
Indonesia's government is said to be keen to advance the project and has advised the partners that it intends to exercise its right to assign 10% of their interest to a local Indonesian entity in 2018.
Under the PSC terms, the existing partners will carry the local entity through the development phase but will be reimbursed from production.
The partners are preparing an application to jointly develop the G sand and K sand reservoirs from field start-up, which may require an amendment to the approved plan of development prior to the final investment decision.
Offshore southeast Australia, AWE is a 35% partner in the BassGas project. Here third-quarter production was up 23% on the previous quarter, mainly due to compression starting on the Yolla platform.
However, there have been issues with the onshore sales gas compressor at the Lang Lang gas plant which resulted in a period of downtime while repairs were implemented.
A change of operator is likely now thatOrigin Energy has agreed to sell its subsidiary Lattice Energy to Beach Energy. Next year's plans include a wireline program.
In the offshore T/RL2 concession (AWE 40%), the Shearwater 3D seismic reprocessing has finished, and concept studies are progressing for the Trefoil field development, with updated static and dynamic modeling of the reservoirs nearing completion.
10/30/2017