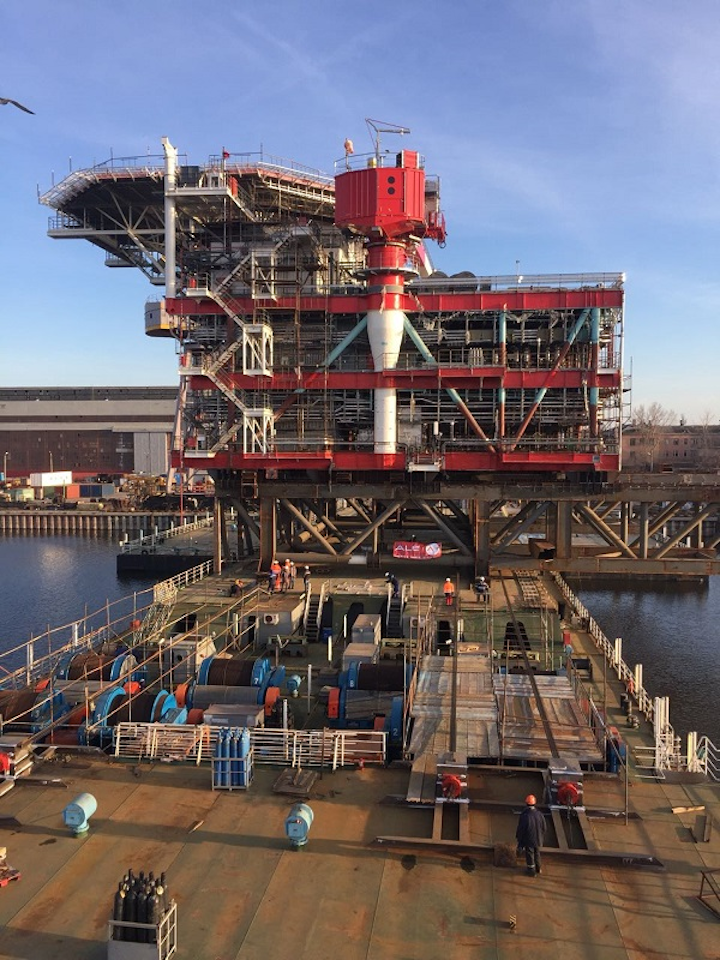 Offshore staff
STAFFORD, UK – ALE has completed load-out of the 3,200-ton satellite platform topsides for Lukoil's Korchagin oil field development project in the Russian sector of the Caspian Sea.
The company was responsible for engineering, weighing, jacking, load-out and offshore pulling operations of the topsides, and supervising of the mooring and ballast in the port of Astrakhan.
First stage of the project, which started last month, involved jacking the topsides to a height of 1.5 m (4.9 ft), and weighing it so that skid beams could be integrated between the topsides and the desk-support frame (DSF) underneath.
This month, ALE undertook the mooring and pulling operations using four SJ600 strand jacks and two 300-ton capacity breakout jacks to load-out the topsides onto the transport barge in a one-day operation.
David Le Masurier, project engineer for ALE – Offshore Services, said: "As the DSF frame had to incorporate the offshore skidways, leading to a large transverse center of gravity, it made the structure more challenging to control during the ballasting operations.
"By utilising our in-house-designed strand jack monitoring software and the barge's internal ballast monitoring, we were able to overcome and correct any deviation of the structure."
The next phase will involve offshore skidding of the topsides on the substructure during the floatover operations in the Caspian Sea, due to take place in 2018.
12/22/2017