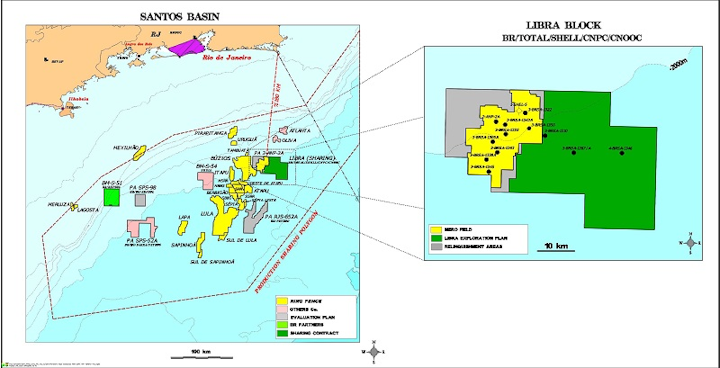 Offshore staff
RIO DE JANEIRO – Petrobras has submitted a declaration of commerciality for the oil accumulation in the northwestern part of the Libra block in the presalt Santos basin.
In the report sent toBrazil's National Petroleum, Natural Gas and Biofuels Agency (ANP), the company also proposed naming the field, with estimated recoverable volumes of 3.3 Bbbl, as Mero.
The field is in ultra-deepwaters around 180 km (112 mi) off the Rio de Janeiro coast, with good-quality carbonate reservoirs expected to provide strong well productivity.
During the exploratory and evaluation phase, the Petrobras-led consortium drilled eight wells in the area, identifying reservoirs with 29º API oil.
First oil was produced early this week via an extended well test from theFPSOPioneiro de Libra, expected to last for around one year.
This is the first FPSO in Petrobras' fleet equipped to re-inject all gas produced during the tests. Its capacity is up to 50,000 b/d of oil and 4 MMcm of associated gas.
On completion of this first test, the vessel will be relocated to operate early production systems for other Libra wells.
The aims are to improve knowledge of the reservoir and dynamic behavior and to support development and optimization of all subsequent production units to be installed in the area.
The consortium plans to eventually deploy four new production systems on the Mero field and to continue exploration of the remaining area of the Libra block, the term of which has been extended by a further 27 months.
Petrobras' partners are Shell, Total, CNPC, and CNOOC. Pré-Sal Petróleo manages the Libra production-sharing contract.
12/01/2017