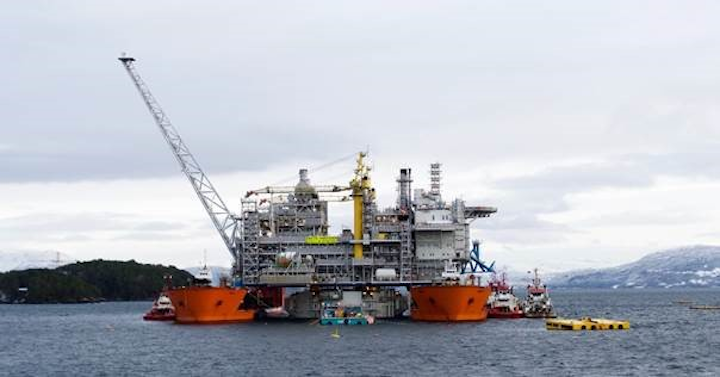 Offshore staff
PAPENDRECHT, the Netherlands – Boskalis has completed a dual vessel float-over of the topsides for Statoil's Aasta Hansteen spar platform in the Norwegian Sea.
Statoil is developing theAasta Hansteen gas/condensate field, 300 km (186 mi) offshore, via the world's largest production and storage spar platform.
Earlier this yearBoskalis'sDockwise Vanguard transported the hull from the yard in South Korea to a fjord near Stavanger.
The cylindrical buoy, 50 m (164 ft) in diameter, is 198 m (649 ft) long and weighs 46,000 tons.
Subsequently, Boskalis transported the 24,300-ton topsides, alsobuilt in South Korea, onboard the White Marlin.
Once the vessel arrived in Norway, the topsides was transferred onto two S-class vessels, the smallest in the Dockwise fleet.
After positioning these vessels on either side of theWhite Marlin, they started un-ballasting while the White Marlin ballasted down and maneuvered out from underneath. The result was a catamaran-type structure with the topsides linking the two hulls.
Last weekend, the catamaran structure and topside were towed out to the vertical spar hull. Once the load was in position above the substructure, mating of the hull and topsides was completed.
12/12/2017