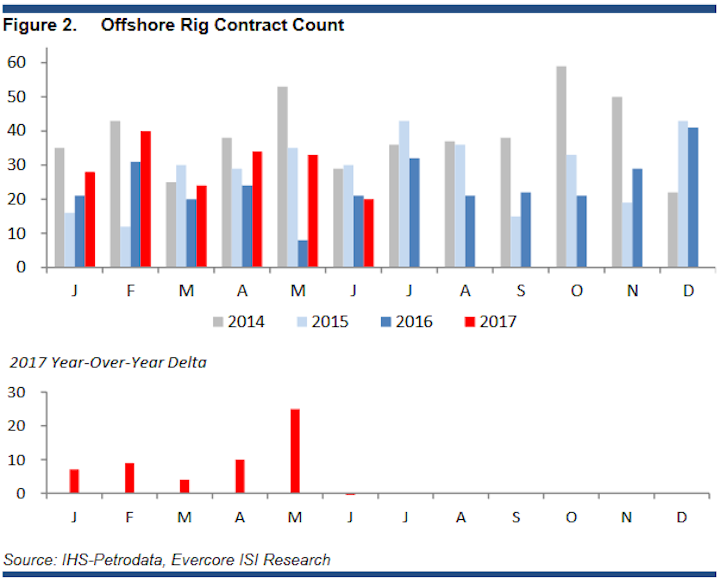 Offshore staff
NEW YORK – Evercore ISI has released its most recent offshore market update, reflecting many positive updates during an active month that saw three new final investment decisions on deepwater projects made.
Despite Brentfalling below $50/bbl at the start of this month, the analyst found that offshore activity held up with three new deepwater FIDs, new fixtures up year-over-year for a sixth straight month, and a couple of new tenders emerged for late 2017/early 2018 opportunities.
"We expect offshore drillers to cautiously reaffirm the offshore rig market is bottoming when 2Q earnings kick off next month," Evercore sad.
Operators made final investment decisions on three deepwater developments in June: 1) Eni'sCoral South offshore Mozambique, 2) Reliance's R-Series offshore India, and 3) ExxonMobil's Liza offshore Guyana.
Evercore said that this total brings the industry's total deepwater FIDs to five for 2017 thus far excluding BP'sMad Dog Phase 2 in the US Gulf of Mexico. Although partners BHP Billiton and Chevron made their FIDs on Mad Dog earlier this year, the analyst firm said it counts it as one of three deepwater projects approved in 2016 because BP gave its approval on the $9-billion project last December.
More than 25 purchase orders have been awarded for Mad Dog 2 thus far, among the largest of which includes Samsung for the floating production unit,OneSubsea for the subsea production system (SPS), Subsea 7 for subsea installation, GE for turbines, Flowserve for pumps, and DresserRand for compressors.
Eni recently awarded GE Oil & Gas the SPS andAker Solutions the SURF awards for its $7-billion Coral South development, while TechnipFMC won the small three well SPS award for Shell's Kaikias development.
The analyst firm reported additional positive news for the offshore industry. More purchase orders should be coming in the weeks and months ahead, and we anticipate at least one additional deepwater FID for the year – Ophir'sFortuna offshore Equatorial Guinea – bringing the 2017 total to six," Evercore said.  An FID for Energean's Karish and Tanin offshore Israel and LLOG's Crown & Anchor in the US Gulf of Mexico are also possible, as approval has been granted for LLOG's two-well development plan.
In addition, operators signed 20 new fixtures so far this month, just one short of the 21 total for June 2016, and Evercore believes that a few more fixtures are possible to end the month higher on a year-over-year basis.
Notably two ultra-deepwater term fixtures were awarded, with Eni securing theSaipem 12000 for 15 months plus up to 45 months of options for the Coral South development and ONGC securing Vantage Drilling's Platinum Explorer to three years for the KG-DWN 98/2 development. Day rates were not disclosed for either of these term fixtures, but ONGC also signed a deepwater floater (Petroserv's Louisiana) for three years at $107,000/d.
ONGC made a final investment decision on India's first deepwater development in March 2016, and the company continues to have two tenders for three years each for the $5-billion development.
New rig tenders continue to track higher, with net two floaters and one jackup tenders added over the past month. Evercore noted that, "surprisingly," floaters are at a record 44 outstanding tenders, up 57% from the January 2015 trough and 22% above the January 2014 peak, while jackup tenders at 40 are up only 33% from the July 2016 trough but are 46% below the January 2013 peak.
Exploration tenders also comprise a surprisingly high 45% of all floater tenders, generally in line with the 48% average of the past four years, while only 13% of all jackups tenders are for exploration versus the recent 30% average.
06/27/2017