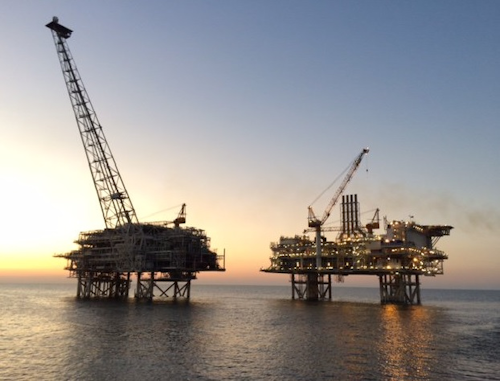 Offshore staff
BAKU, Azerbaijan– The Shah Deniz consortium has reported that the topsides of the production and risers (PR) platform for the Shah Deniz Stage 2 project has been installed in the Azeri sector of the Caspian Sea.
This follows the safe and successful sail away and offshore installation of the quarters and utilities (QU) platform topsides in early June.
According to BP, the PR platform topsides unit, which was completed ahead of schedule, sailed away to the Shah Deniz contract area in the Caspian Sea from the Azfen fabrication yard in Bibi-Heybat on Sept. 15. Prior to that, the topsides unit was jacked up onto the load-out frame at the quayside of the fabrication yard on Aug. 6, 2017, and was transferred onto theSTB-1 transportation barge on Sept. 9, in preparation for sail away.
The transportation, float-over and installation activities took six days to complete. The unit now has been installed on top of thePR jacket which was already at its offshore location in a water depth of 94 m (308 ft) waiting for the deck.
The PR platform topsides unit weighs about 15,800 metric tons and is 100 m (328 ft) long by 60 m (197 ft) wide. It contains a 133-m (436-ft) long flare boom, 10 flowline reception facilities, five production separators, two flash gas compressors, and three production export flowlines.
The construction of the PR topsides unit, which was built by theAMEC-Tekfen-Azfen consortium at the Azfen fabrication yard, was fully undertaken in the country using local infrastructure and facilities, BP said. More than 5,000 people, including sub-contractors and specialist vendors, were involved in the construction works. More than 90% of these were Azerbaijani citizens.
Ewan Drummond, BP's Vice President, Projects, said: "The PR platform topsides sail away and safe offshore installation is an extremely important project milestone as it finalizes our offshore facilities fabrication delivery. We are very pleased to deliver this final offshore installation activity safely and in time to support the giant Shah Deniz Stage 2 project completion and first gas delivery next year…"
09/20/2017