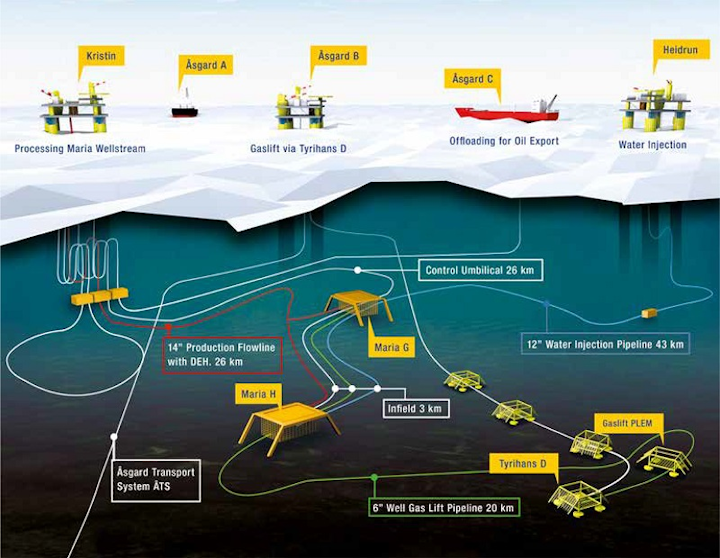 Offshore staff
OSLO, Norway – The Norwegian Petroleum Directorate (NPD) has authorized Wintershall to start-up the Maria field in the Norwegian Sea, around 10 months ahead of the original date targeted in the field development plan.
Production is now expected to begin in December. The NPD says good project execution and efficient drilling have helped Wintershall beat its schedule.
The development has also been cheaper than expected at just over NOK12 billion ($1.46 billion), against the originally estimated NOK15.7 billion ($1.92 billion).
Kalmar Ildstad, NPD's Assistant Director for Development and Operations in the Norwegian Sea, said: "With a total of four host facilities, the project is also a good example of the value creation generated from good collaboration with the licensees in surrounding infrastructure."
The consent for start-up is issued to the partners in production licenses 475 BS and 475 CS.
Maria is 240 km (149 mi) northwest of Trondheim, 20 km (12.4 mi) east of the Kristin field, and 45 km (28 mi) southwest of the Heidrun field.
Development involved installation of two, four-slot seabed templates which will house four oil production and two water injection wells.
Maria's wellstream will be transported via a seabed pipeline to Kristin for processing and metering. There, the stabilized oil will be routed to the Åsgard C - FSU for storage and offloading, while the rich gas will be routed through the Åsgard Transport System to Kårstø, for extraction of NGLs and condensate.
Gas for lift purposes at Maria will be imported from Åsgard B via the Tyrihans D template, with pressure support obtained through the injection of sulfate-reduced water from the Heidrun TLP.
Wintershall estimates the field's recoverable reserves at 28.9 MMcm of oil, 1.32 MM metric tons (1.45 MM tons) of NGLs, and 2.31 bcm of gas. Maria should remain in production for 22 years.
11/17/2017