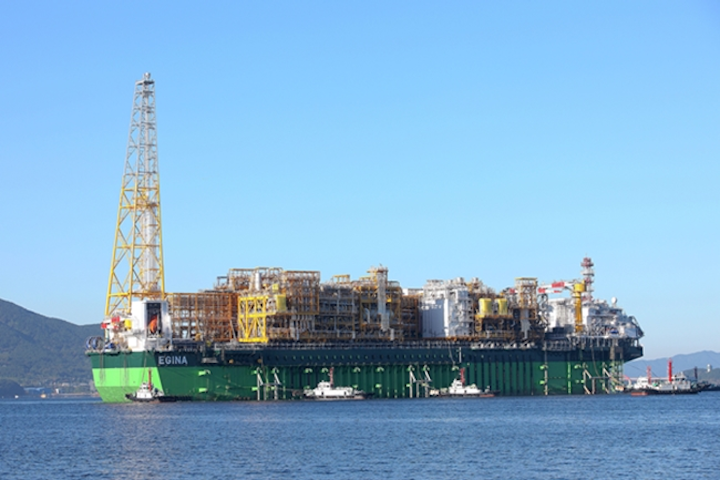 Offshore staff
GEOJE, South Korea– The FPSOEgina has departed the Samsung Heavy Industries (SHI) shipyard in Geoje, South Korea, and is in transit to Nigeria for topsides module integration and commissioning.
The voyage is estimated to take three months.
In 2013, SHI won the $3-billion contract for the turn-key project in which Samsung covered engineering, procurement, construction, transport, and commissioning.
The FPSO is 330 m (1,083 ft) in length, 61 m (200 ft) across, and 34 m (112 ft) high, with a storage capacity of 2.3 MMbbl of oil and topsides weighing 60,000 tons.
The vessel is to be installed at theTotal-operated Egina oil field in 1,750 m (5,741 ft) of water, 130 km (81 mi) offshore.
The Egina FPSO project is under the Nigerian local content regulations, and a portion of the topsides fabrication and integration is to be completed in Nigeria. Scheduled delivery is expected in the second half of 2018.
SHI formed a joint venture (SHI-MCI) with a Nigerian local company and established a production facility in Lagos, Nigeria, to meet the local content requirements. The 120,000-sq m (1.3 million-sq ft) yard has construction and painting facilities as well as a 500-m (1,640-ft) long quay.
SHI-MCI has constructed topsides modules for Egina since June 2015.
11/02/2017