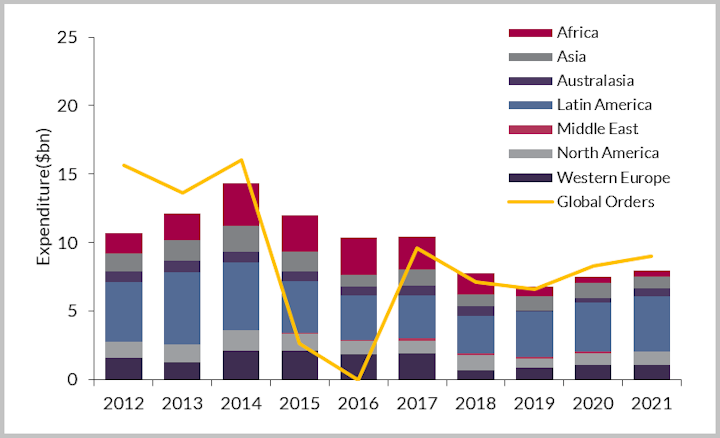 Offshore staff
FAVERSHAM, UK – Westwood Energy sees signs of a resurgence in the floating production systems (FPS) market.
Aside from ExxonMobil's order of this year's first FPSO for theLiza field offshore Guyana, the World Floating Production Systems Tracker Q3 2017 claims other projects have moved toward a final investment decision as operators seek to capitalize on lower pricing throughout the supply chain and replace their reserves.
Continued low equipment and service costs have combined with re-engineering of field developments resulting in improved field economics. As a result, projects previously deemed uncommercial during the high oil price era, such asMad Dog Phase 2 in the Gulf of Mexico, are now being ordered, while others, such as Shell's Bonga SW project offshore Nigeria, are expected to be ordered.
This, the analyst claims, demonstrates a renewed confidence in FPS developments in bothdeepwater, where they remain essential, and in shallow water where they are viewed as a viable alternative to fixed developments.
So far this year high-capex units ordered prior to the downturn, such as theP-66 and Armada Olombendo FPSOs, have come onstream.
Currently 31 units are under construction, a drop of 14% from 2Q 2017 due to the lack of project sanctioning.
Seven FPS units have been ordered this year, and further high-capex orders are imminent, with the Libra and Sepia FPSOs offshore Brazil likely to be sanctioned late in the year.
Latin America will remain dominant in the sector accounting for 32% of capex and 33% of installations. Much of the expenditure will be for Petrobras-operated fields in water depths of up to 1,000 m (3,281 ft) which were ordered in 2010 and are yet to be installed.
Africa, Asia, North America, and Western Europe are all forecast to incur an installation spend of more than $5 billion.
08/09/2017