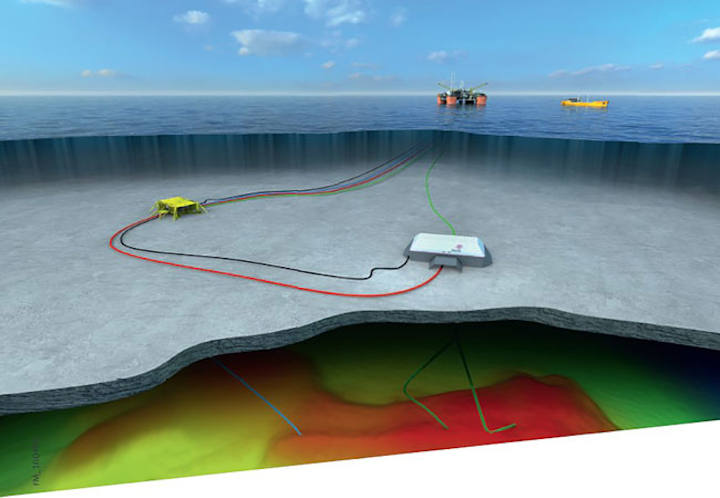 Offshore staff
OSLO, Norway– Statoil and its partners in the Njord and PL348 licenses in the Norwegian Sea have submitted plans for two development projects to the Norwegian authorities.
One is a revised plan for development and operation of the Njord field and the other concerns development and operation of theBauge (ex-Snilehorn) field. If approved, both projects should come onstream in late 2020.
Njord, which started production in 1997, was originally expected to be shut down in 2013. However, technology, project improvements, and cooperation between the partners and supply industry suggest operations could be extended by a further 20 years.
According to partner ENGIE E&P Norge, capex planned for both fields total NOK19.8 billion ($2.32 billion), comprising NOK15.7 billion ($1.84 billion) for Njord and NOK4.1 billion ($481 million) for Bauge.
Upgrades under way on theNjord Asemisubmersible platform at Stord in western Norway, including reinforcement of the hull and deck equipment changes, should facilitate the tieback of Bauge and potential third-party tie-ins, as well as maximizing recovery from the Njord field and the Hyme satellite.
TheNjord B FSO is also undergoing modifications at Kristiansund for extended service.
Statoil estimates remaining resources at Njord and Hyme at 175 MMboe, equivalent to the volume of reserves produced from the Njord field since 1997. In addition, Bauge contains 73 MMboe.
The Bauge development, 15 km (9.3 mi) northeast of Njord, will be the first to apply theCap-X, a new type of subsea production system said to be less costly to produce and install.
Statoil plans to install one subsea template, two oil producer wells and one water injector at Bauge, with a pipeline to Njord and an umbilical to Hyme. Bauge's production should help to lengthen the life of the Njord facilities by three years.
The gas will be routed through the Åsgard transport system to the reception terminal at Kårstø in Rogaland.
Provisions will also be made so that theVNG-operated Pil discovery in production license 586, south of Njord, can be tied in to Njord A.
Kalmar Ildstad, assistant director for development and operation at the Norwegian Petroleum Directorate, said: "We are interested in ensuring investments to extend field lifetimes.
"This will allow both recovery and value creation to increase, while also opening up opportunities for developing other discoveries in the area."
03/28/2017