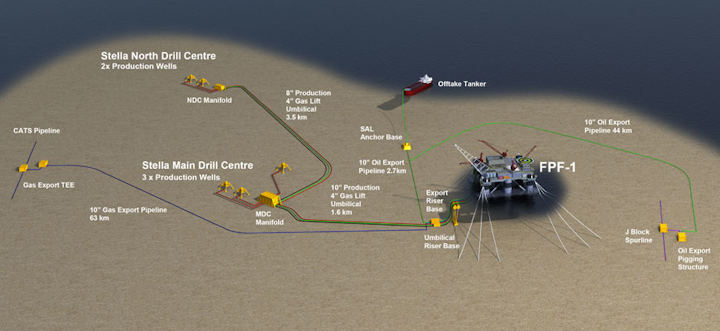 Offshore staff
CALGARY, Canada – Ithaca Energy has issued an update on operations at the Greater Stella Area project in the UK central North Sea, where production started last month.
Although commissioning operations are continuing on theFPF-1semisubmersible platform, the Stella field is producing at reduced rates from two of its five wells in order to limit gas flaring.
Production started initially from one well in order to commission and stabilize the platform's liquid processing systems and to begin oil offloads to the shuttle tanker.
Main outstanding commissioning tasks concern the fuel gas system and the two gas export compressors, in order to begin gas exports to the North Sea CATS pipeline.
Initial load testing on the first of the two gas export compressors identified a need for modifications to the machine's instrumentation to complete the commissioning scope.
This work should finish soon, followed by recommencement of the planned commissioning program.
Once load testing of the compressor has been demonstrated as satisfactory, gas can be routed to the fuel gas system allowing initial pipeline exports to get under way. Testing will then start of the second gas export compressor.
Once both export compressors are operational, there will be a ramp-up to full production followed by optimization of production across the field's wells.
Installation of the oil export pipeline from theFPF-1 to the Norpipe system should be completed in the second half of the year. Main outstanding activities are the installation and tie-in of the pipeline export pumps on the platform and installation of the final subsea connections, to be performed just prior to the switchover from shuttle tanker to pipeline export.
Activities on the satelliteHarrier field tie-in are due to start in April when the ENSCO 122 heavy-duty jackup arrives on location.
It will drill a multilateral well into the field's two reservoir formations, due to be completed during 2H.
Harrier's well will be tied back via a 7.5-km (4.67-mi) pipeline to a spare slot on the Stella main drill center manifold for onward export and processing of production on theFPF-1.
The subsea infrastructure is due to be installed next summer, with start-up likely in the second half of 2018.
03/23/2017