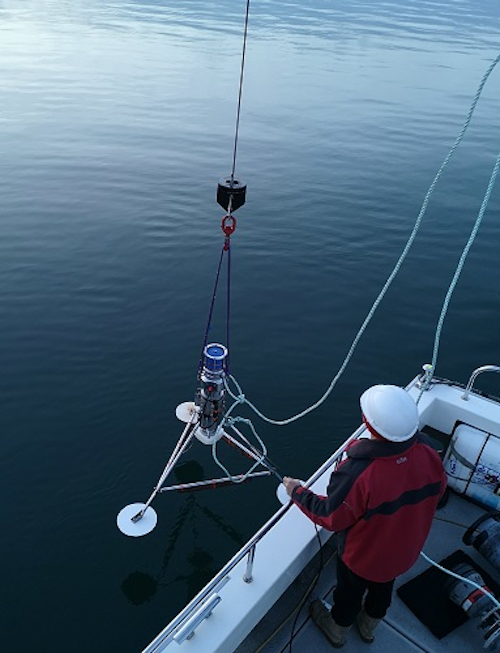 Offshore staff
YATELEY, UK – Equinor will use cabled subsea instrumentation from Sonardyne International for time-lapse seismic data acquisition at the Johan Sverdrup field in the Norwegian North Sea.
From start-up of production later this year, Equinor plans to use seafloor-based seismic cablepermanent reservoir monitoring (PRM) to monitor what is happening in the reservoir over time to assist its program of maximizing recovery.
According to Sonardyne, although PRM technologies increase the amount and quality of data on reservoirs, processing the data can be complicated by changing environmental conditions, such as water velocity and tidal height, when surveys are conducted.
If the conditions are known, the impact of these outside factors can be removed.
Subsea 7 will install a Sonardyne Pressure Inverted Echo Sounder (PIES) at 110-120 m (361-393 ft) water depth at the field.
PIES continuously measure the two-way travel time of sound waves propagated through the water column from the seabed to the sea surface as well and the pressure (depth) at the seabed. This data is used to calculate a continuous time history of the average water velocity and tidal variation throughout the entire water column.
This will be only the second instance of PIES units being hardwired into topsides power and communication infrastructure, Sonardyne claimed, giving Equinor instant and continuous access to the data. Conventionally, PIES data are collected acoustically by a passing surface vessel.
Earlier this month Sonardyne, Shell Brasil, and Brazilian research institute Senai-Cimatec agreed to develop autonomous technology for monitoring of deepwater presalt oil fields.
The new 4D seismic monitoring system, based on on demand ocean bottom nodes, is under development via a program promoted by the National Agency of Petroleum, Natural Gas and Biofuels (ANP).
The aims are to increase the autonomy of ocean bottom nodes and allow them to be deployed and remain on the seafloor for up to five years. During that period, there would be no need for interventions such as connections for data extraction or replacement of batteries.
In addition, the nodes would communicate wirelessly with AUVs such as the Shell-fundedFlatFish AUV.
02/28/2019