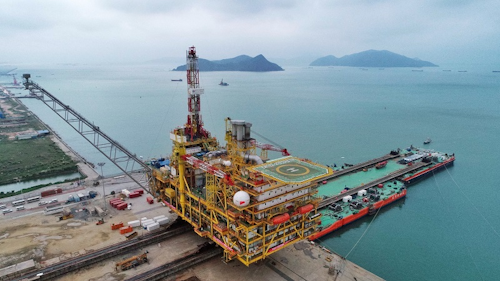 Offshore staff
IRVING, Texas – The COOEC-Fluor Heavy Industries Co., Ltd. fabrication yard has completed the central and wellhead platforms for CNOOC's Dongfang 13-2 gas fields development project, according to Fluor Corp.
The central platform recently departed the yard in Zhuhai, China, and follows the loadout of the wellhead platform in August 2018. The modules will make up part of a new offshore oil and gas production platform in the western South China Sea, 132 km (82 mi) west of Dongfang City.
Chris Vertanness, vice president of Fluor and director of operations at the COOEC-Fluor fabrication yard, said: "More than 2,000 craft workers safely delivered the project on budget and on schedule with extremely high quality and productivity."
COOEC-Fluor was responsible for assembling, commissioning, and loading out the two offshore modules. The two modules have a total weight of 19,100 metric tons. The central platform module is 115 m (377 ft) long, 46 m (151 ft) wide, and 96 m (315 ft) high.
The project was completed with 2.3 million work hours without a recordable incident, Fluor said.
The Dongfang 13-2 project is expected to produce 43,400 boe/d at peak from the high-pressure/high-temperature gas fields.
04/18/2019