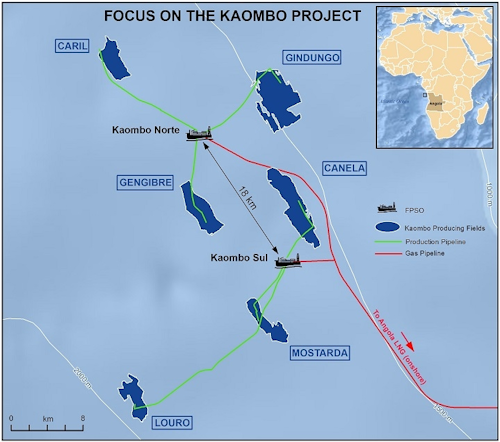 Offshore staff
PARIS – Total has started production through the second FPSO at the deepwater Kaombo oil field in block 32 offshore Angola.
TheKaombo Sul will eventually double the field's production to 230,000 b/d, representing around 15% of Angola's daily output. The FPSOKaombo Norte started operating last summer.
Associated gas from theKaombo Sul will be exported to the onshore Angola LNG plant, as part of a commitment to stop routine flaring. 

Kaombo comprises six fields spread over an area of 800 sq km (309 sq mi). Gengibre, Gindungo, and Caril were connected to the Kaombo Norte, and Mostarda, Canela, and Louro are now connected to the Kaombo Sul.

To date over 60% of the 59 subsea wells have been drilled. Total also claimed a record for this project in terms of Angolan content, with 20% of the 110 million project hours worked locally.

Total has a 30% interest in the block. Other partners are Sonangol P&P (30%), Sonangol Sinopec International 32 (20%), Esso Exploration & Production Angola (Overseas) (15%), and Galp Energia Overseas Block 32 (5%). 
04/02/2019