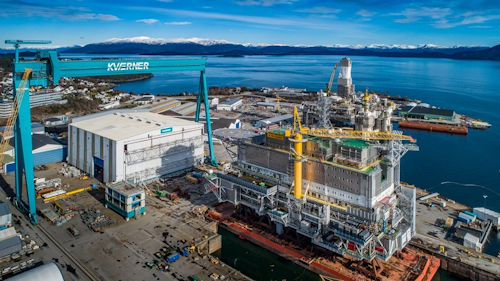 Offshore staff
STAVANGER, Norway – The fourth and final platform topsides for the first phase of the Johan Sverdrup field development will soon depart Kværner's yard in Stord, western Norway.
On arrival at the field center in the Norwegian North Sea it will be set down on the pre-installed jacket byAllseas'Pioneering Spirit in a single-lift operation.
Operator Equinor awarded the Kværner/KBR joint venture the NOK6.7-billion ($783-million) contract for construction of the utility and living quarter topsides in mid-2015, with Leirvik fabricating the 560-bed quarters module.
At peak, more than 2,000 people were involved in constructing the platform, including subcontractors.
According to Kværner, the topsides was mechanically complete last October. Throughout the winter, all systems were thoroughly tested and made ready for sail-away, with the topsides formally handed over to Equinor on Feb. 15, as agreed in the contract.
The company took advantage of this project to implement various improvements at Stord, such as a building method tailored to the site's large assembly crane. This facilitated larger sections and more work on the ground, with fewer integration zones.
"This is perhaps the closest to a 'plug-n-play' platform of this size we have ever seen," said Aud Hove, Equinor's project manager for theutility and living quarters topsides.
Over the next few days, thePioneering Spirit is due to lift the 26,000-metric ton (28,660-ton) processing platform topsides into place at the Sverdrup field center before heading back to Stord to pick up the 18,000-metric ton (19,842-ton) living quarter topsides.
Rosenberg WorleyParsons' yard in Stavanger has also completed the two last bridges for the four-platform complex and the flare tower for the processing platform. All are ready for sail-away to the field.
03/15/2019