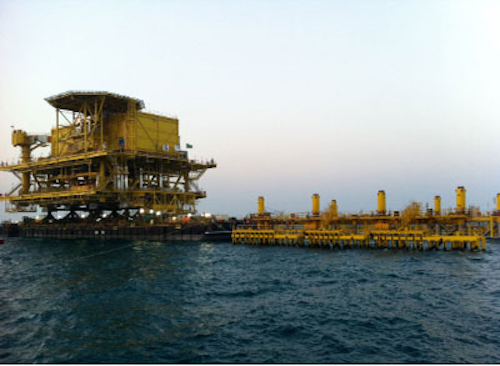 Offshore staff
SAFANIYA, Saudi Arabia – Saudi Aramco's latest offshore platform has been installed via the floatover method.
TheSafaniya field tie-in platform No. 20 (Safaniya TP-20) weighs more than 6,000 metric tons (6,614 tons), three times more than the company's normal TPs, making it Aramco's largest offshore installation to date. It will be the main crude oil gathering and power supply hub for the North Safaniya offshore field.
This is part of the first phase of a long-term project designated theSafaniya Master Plan to upgrade the Safaniya offshore field. Since the early days of planning in 2009, Aramco's team has been working on issues related to structure size, such as associated piping and electrical power needs.

Measures were devised to ensure construction and installation went to plan. These included staging of construction workshops, design and model analyses to review all aspects of the design and to ensure safe installation.

One factor for the floatover was the weather conditions. The team performed 10-year, three-year, and one-year analyses of historical weather conditions at the offshore location to select the optimal installation time. Various supports and structures were installed to ensure no damage occurred during the critical installation phase.

Platform fabrication at Jebel Ali, UAE took 20 months (from February 2011 to October 2012). The platform will be connected to a 47-km (29-mi), three-core 230-kV composite submarine cable (power and fiber), said to be the longest of its kind in the world. This is expected to be installed in February 2013.

12/19/2012