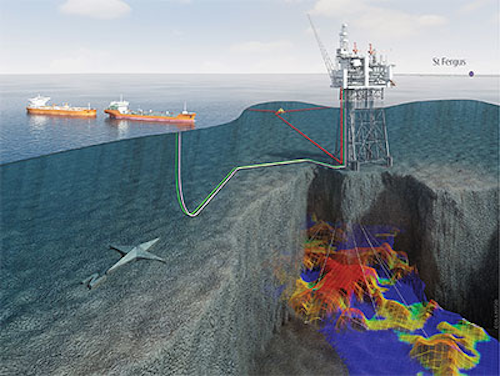 Offshore staff
STAVANGER, Norway – Statoil and its partners have committed to develop the Mariner heavy oil field in the UK northern North Sea for more than $7 billion.
This will be the largest new offshore development in the UK sector for more than a decade. Mariner field is 150 km (93 mi) east of the Shetland Isles.
Assuming government approval for the project, production should start in 2017 and continue for 30 years, averaging about 55,000 b/d over the peak period from 2017 to 2020.
Statoil says the economics of the project improved following the UK government's expansion of the Ring Fence Expenditure Supplement.
The company will establish an operating organization for the Mariner field in Aberdeen, creating more than 700 long-term jobs, of which more than 500 will be in offshore positions.
Mariner comprises two shallow reservoirs, the Maureen formation and the Heimdal sandstones of the Lista formation, both containing heavy oil of about 12-14° API. In-place oil is close to 2 Bbbl, with probable recoverable reserves of more than 250 MMbbl.
Since its discovery in 1981, the field has undergone various development studies by different operators. Statoil assumed operatorship from Chevron in 2007 - its current partners are Cairn Energy subsidiary Alba Resources andJX Nippon Exploration and Production (UK).
The field will be developed with a production, drilling and quarters (PDQ) platform, supported by a steel jacket, with 50 well slots, and a floating storage unit (FSU) of 850,000-bbl capacity. A jackup rig will be deployed for the first four to five years.
Due to the likelihood of early water break-through, the process is designed to handle large liquid rates and oil/water emulsions. All production wells will have dedicated sand screens and electric submersible pumps for lifting.
Dragados Offshore has the contract for engineering, procurement, and construction of the steel jacket, with SNC Lavalin performing detailed engineering. Daewoo Shipbuilding & Marine Engineering has the contract for the topsides, with CB&I and Rig Design Services as engineering subcontractors.
Estimated value of the PDQ and jacket is about £1.2 billion ($1.95 billion), not including potential options, although contract awards are contingent on final approval of the field development plan by the authorities.
Saipem will perform heavy-lift operations, while the contracts for the FSU and cat. J drilling rig will be issued next spring. This month invitations will be sent out to tender for contracts on risers, pipelines, umbilicals, flowlines, power cables and marine operations, with awards again planned for 2Q 2013.
Next year Statoil expects to make a final investment decision on the nearby Bressay heavy oil field, which was also acquired from Chevron.
12/21/2012