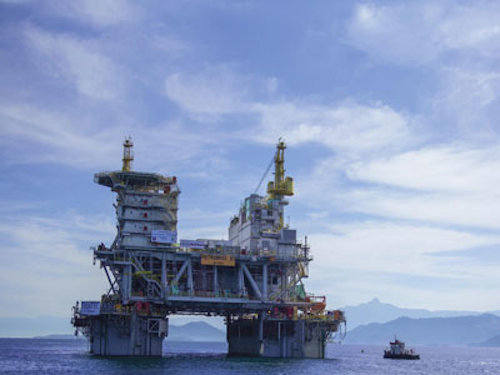 Offshore staff
GALVESTON, Texas – McDermott International Inc., is highlighting its recent work on the Papa Terra TLP at the Topsides, Platforms and Hulls Conference & Exhibition being held at the Moody Gardens Hotel & Convention Center in Galveston, Texas.
McDermott says the project involved the first use of dry-tree floating technology offshore Brazil and the first TLP installation offshore South America. The company also says that project drew upon the proprietary technology, engineering, and construction resources of McDermott, Keppel, and FloaTEC, the joint venture company between McDermott and Keppel.
The facilities developed included the tension leg wellhead platform (TLWP), hull, topsides, tendons, and risers. Work was allocated as follows:
Topsides engineering was by McDermott while the hull engineering was by FloaTEC. Partial procurement services were provided by the cross-company project team.
Fabrication of the piles and tendons was by McDermott's Morgan City multi-joint welding facility. Major installation components, such as tendon buoyancy modules, were provided by McDermott Wuchuan fabrication yard in Qingdao and at McDermott's Morgan City facility. Risers, well systems, and tendon components were supplied by FloaTEC. The TLWP hull and topsides are being constructed by Keppel.
McDermott performed float-over project management and TLWP installation offshore, as well as installation of the anchor piles and tendons; with the cross-company project team responsible for commissioning.
FloaTEC will perform operations and maintenance of the TLWP for the initial three-year period of operations.
Papa Terra is a heavy crude oil field in block BC-20 of the Campos basin 110 km (68 mi) offshore Brazil in 1,190 m (3,903 ft) water depth. Petrobras is operator with 62.5% interest whileChevron holds the remaining 37.5%.
The partners made the final investment decision in January 2010 and will invest $5.2 billion on field development.First production occurred in November 2013.
2/6/14