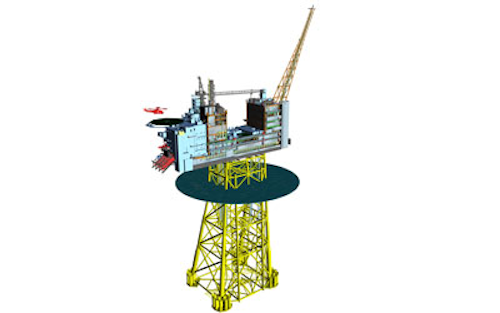 Offshore staff
STAVANGER, Norway – Statoil has awarded Emerson Process Management a $2.7-million contract for an integrated condition and performance monitoring system on the Gina Krog oil and gas platform in the Norwegian North Sea.
The system will allow Statoil personnel onshore to continuously monitor the new platform's critical pumps, compressors, and other mechanical equipment, identifying potential problems before they impact production.

Emerson's package will include its CSI 6500 Machinery Health Monitor and AMS Suite predictive maintenance software. This provides predictive diagnostics and health alerts, enabling personnel to take corrective maintenance actions to avoid unplanned shutdowns and maintain production.

The AMS Suite: Asset Performance Management is built on Meridium's APM software. It will aggregate all asset data to present a clear picture of overall asset health and performance, allowing work notifications to be created and relayed to the SAP Enterprise Asset Management system.

Additionally, Emerson is supplying a wireless communication infrastructure based on IEC 62591 (WirelessHART) technology, which will support future enhancements to capture additional equipment data on the platform. The associated cost, the company claims, is lower than for traditional wired communications.
02/19/2014