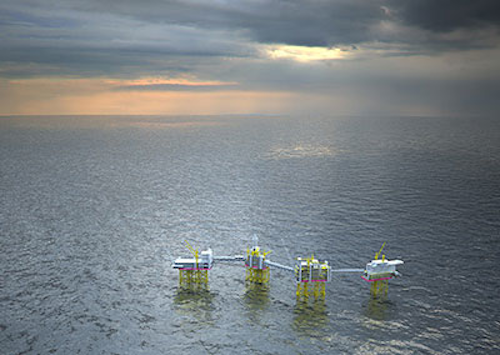 Offshore staff
STAVANGER, Norway – Statoil and its partners have agreed on a concept for the first development phase of the Johan Sverdrup field in the central Norwegian North Sea.
This calls for a field center with four platforms and power from shore, to reduce carbon-dioxide (CO2) emissions from the Utsira High Area by 60-70%.
Johan Sverdrup, one of the five largest oil fields discovered on the Norwegian shelf, will at peak contribute 25% ofNorway's production, Statoil claims. Recoverable resources could be in the 1.8-2.9 Bboe range.
The field should start production in late 2019 and remain in service for 50 years, eventually delivering 550,000-650,000 boe/d at peak.
Johan Sverdrup extends over licenses PL501, PL502, and PL265, 140 km (87 mi) west of Stavanger. It will be developed in several phases because of its size and lateral extension over a 200-sq km (77-mi) area, said partnerLundin Petroleum.
Design capacity for the first phase will be 315,000 boe/d. However, Statoil anticipates production of up to 380,000 boe/d during the early period. Pre-drilling of wells should lead to a rapid production ramp-up. The partners are aiming for a 70% recovery rate from the field.
Statoil estimates first-phase investments at NOK 100-120 billion ($16.4-19.78 billion), including the field center, wells, export systems for oil and gas, and power supply. The figure additionally takes into account contingencies and provisions for market adjustments, and measures for improved oil recovery.
At the same time, work continues on ways to lower the first-phase costs.
The field center will feature a process platform, one wellhead platform with drilling facilities, riser platform and living quarter platform, all with steel jackets and bridge-linked, and designed to facilitate future development. Water depth is around 120 m (393 ft), with a reservoir depth of 1,900 m (6,233 ft).
Forty to 50 production and injection wells will be drilled to support Phase 1 production, Lundin added, of which 11-17 wells will be drilled prior to first oil using a semisubmersible rig.
Under Phase 1, about 80 MW of power will be supplied to the field center from a shore-based transformer at Kårstø delivering direct current to a converter on the riser platform.
Front-end engineering design is in progress. When the plan for development and operations is submitted early next year, the document will outline alternate power solutions for the future phases, one of which could be power from shore to field developments throughout the Utsira High area based on updated power requirements.
"This alternative, if selected, has the potential to capture more than 90% of the total CO2 emissions from this area," said Øivind Reinertsen, senior vice president of the Johan Sverdrup field.
Oil and gas from Johan Sverdrup will be sent to Norway's west coast through dedicated pipelines. Oil will be transported through a new 274-km (170-mi), 36-in. line to theMongstad terminal in Hordaland county and the gas through a 165-km (102-mi), 18-in. line linked to the Statpipe subsea trunkline system to Kårstø in Rogaland County for processing and onward transport. Costs could total NOK 11 billion ($.8 billion).
The partners have not yet addressed the scope and costs of further development phases, Lundin said.
02/13/2014