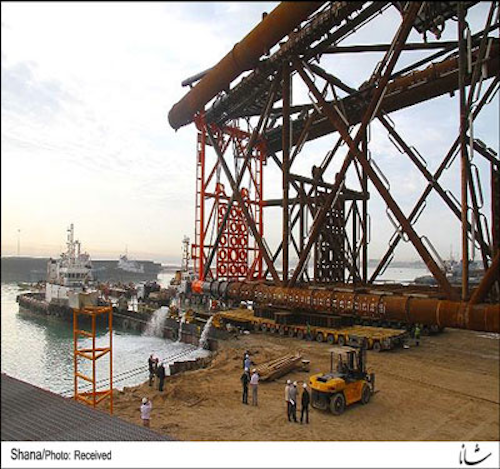 Offshore staff
TEHRAN, Iran – Installation should be completed by mid-June of the remaining jackets for the gas production platforms for phases 22 and 24 of the South Pars field in the Persian Gulf.
Qobad Choobdar, chairman of Iran Marine Industrial Co. (SADRA), told news service Shana that remaining sections of the platforms would be connected by next March.
Phases 22 and 24 will produce 56.6 MMcm/d of sour gas and 75,000 b/d of gas condensate.
Another Shana report said gas production capacity fromSouth Pars Phase 12 is expected to reach 1 bcf/d (28 MMcm/d) next month.
Production of sour gas from platform A will rise from its current level of 500 MMcf/d, while over the next two weeks the B and C platforms will be ready for transportation to the site for installation. Once they are operational, sour gas production from Phase 12 could reach 2.5-3 bcf/d.
As for phases 15 and 16, drilling, perforation, and primary acidizing work has been completed in 22 wells.
Seyyed Mostafa Khoei, managing director of Dana Energy, said acidizing in four remaining wells will continue after installation of the related platforms.
Average depth of wells is 3,200 m (10,498 ft), and each has taken around 75 days to drill.
05/30/2014