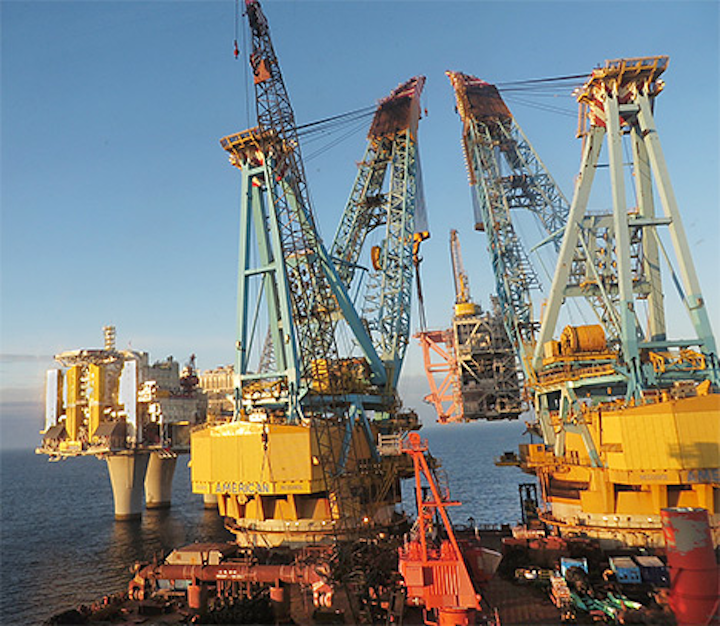 Offshore staff
STAVANGER, Norway – The heavy-lift vessel Saipem 7000has completed lifting two new compressors onto the Troll A platform in the North Sea for Statoil. The compressors are scheduled to be in service in 2015 to boost Troll recovery by more than 83 bcm (2.9 tcf) of gas.
These two new compressors join two already in service.Power will come from onshore via five cables covering the 70 km (43.5 mi) distance from Kollsnes, Norway, to the platform.
"The new module was lifted into place in a safe and sound manner. This has been planned for a long time, and it is therefore positive that we have reached this milestone, which is important for Troll A's gas deliveries over the next 50 years. Installing new modules weighing a total of more than 6,000 metric tons (6,614 tons) on an existing platform in operation is a huge task," says Knut Solemslie, production manager on Troll A.
The project consists of three different modules. Aibel, the main supplier for the Troll compressor project, built one module in Thailand and two in Haugesund.
Last summer, the electrical, instrument, and telecom module from Haugesund was lifted on board Troll. The two next modules will be installed this summer.
The integrated utility module was prefabricated in Poland and assembled in Haugesund, where the equipment was also installed. It weighs 1,800 metric tons (1,984 tons) and is scheduled for be lifted a few weeks after the electrical, instrument, and telecom module.
6/5/14