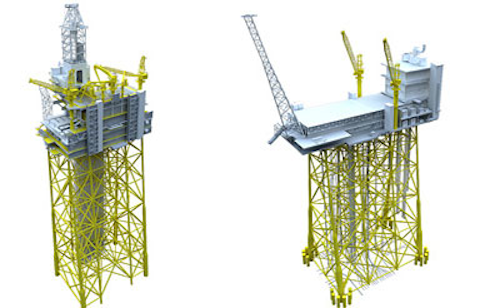 Offshore staff
STAVANGER, Norway – Statoil has set up a frame agreement under which Kvaerner will supply steel jacket substructures for the company's operated fields.
This has led to the award of a letter of intent under which Kvaerner will deliver two of the planned steel jackets for theJohan Sverdrup development in the central Norwegian North Sea, with a potential combined value of around $488 million.
The first development phase includes constructing a field center comprising four fixed platforms. Johan Sverdrup is in 120 m (394 ft) of water.
Kvaerner will start engineering for the engineering, procurement, and construction contract in Oslo late this year, with project management based at the contractor's jacket facility in Verdal in mid-Norway. Assembly will take place from 1Q 2016.
Some subcontractors will start pre-fabrication next summer.
The riser platform jacket delivery is expected to be in summer 2017, followed by the drilling platform jacket in spring of 2018. During peak activity in 2Q 2017, around 350 people will work on the project.
The frame agreement, which lasts through 2020, includes studies, front-end engineering design, detail engineering, procurement, fabrication, and project management for steel jacket substructures for various Statoil-operated fields offshore Norway (no number has been specified).
Statoil points out that the final agreement for Johan Sverdrup depends on the investment decision for the project going through next February.
Kvaerner is already involved in the development as subcontractor on the field center pre-project, which is managed byAker Solutions.
Statoil expects to award contracts for the steel jacket for the accommodation quarters and the processing plant during mid-2015.
Riser platform jacket

Drilling platform jacket

Jacket height: 140 m (459 ft)

Jacket footprint: 64 m x 94 m (210 x 308 ft)

Piles: 24

Jacket height: 140 m (459 ft)

Jacket footprint: 55 m x 85 m (180 x 279 ft)

Piles: 24
06/26/2014