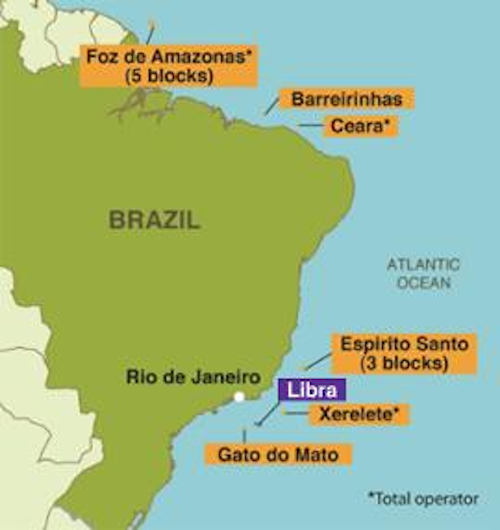 Offshore staff
PARIS – With a target depth of 5,850 m (19,193 ft), the first appraisal well was spudded on Libra field off the coast of Brazil in early August. The super-giant field, located 200 km (124 mi) offshore, has estimated resources of between 8 Boe and 12 Boe in reservoirs that lie under a thick layer of salt. The well kicks off several years of work that will allow Total and its partners to improve their understanding of the gigantic field.  
The field covers 1,550 sq km (598 sq mi) and may require as many as 12 FPSOs to develop. Once the first systems are installed, production is scheduled to begin in 2017 and is expected to plateau at 1.3 MMb/d in 2030.
The Libra field is being developed by a consortium comprisingPetrobras (operator, 40%), Total (20%), Shell (20 %), CNOOC (10%), and CNPC (10%).
09/17/2014