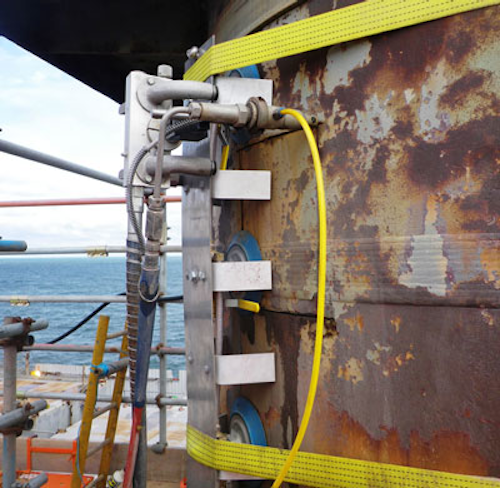 Offshore staff
ST. MICHAEL, Minnesota – Jet Edge's UK distributor Aquablast has safely cut up obsolete contactor towers on a live gas platform operated by Perenco in the UK southern North Sea.
The towers, installed on theIndefatigable field, served originally for sweetening or dewatering produced gas under high pressure. They were constructed of 70-mm (2¾-in.) heavy steel plate and weighed more than 300 tons.
To ensure that the platform's crane could lift the towers unaided, Perenco commissioned Aquablast to cut them into smaller cylindrical sections.
A Jet Edge Spyder abrasive waterjet unit was deployed for the deep circular cuts, after a "mailbox" cut had been made to allow internal inspection to determine where to make the tower separations. Power for the waterjet came from a Jet Edge 55-260DXS diesel-driven mobile hydraulic intensifier pump with engines adapted for hazardous area operation.
The 2¾-in. thick cuts were made at an average cutting speed of over 1¾ in./min, with around 23 lb/ft (29 kg/m) of almandite garnet abrasive consumed. The tower sections were then transported to shore in England for scrapping.
11/10/2014