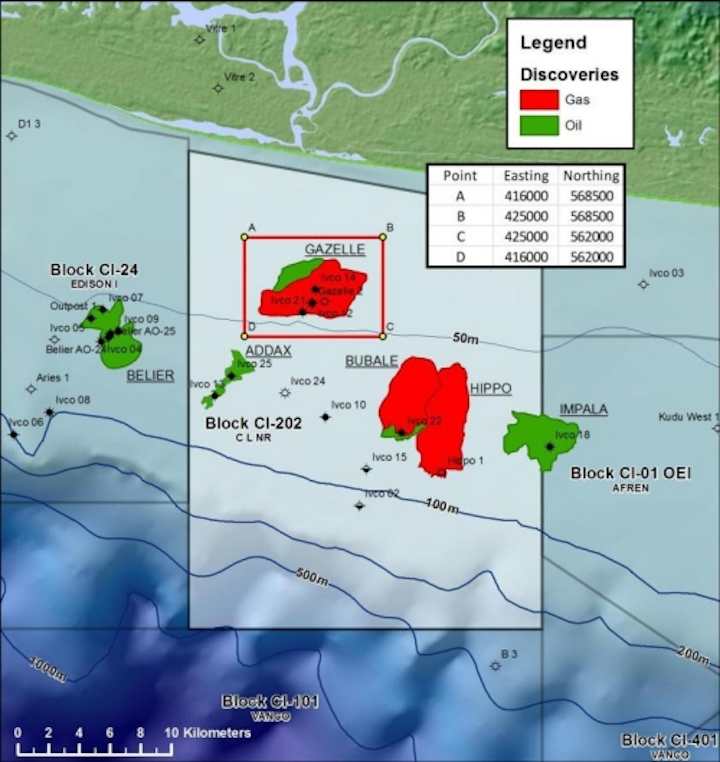 Offshore staff
PERTH, Australia – Rialto Energy has secured government approval to develop the Gazelle field in block CI-202 off Cote d'Ivoire.

The fasttrack schedule is designed to achieve start-up in late 2013, at initial rates of 8,000 b/d of oil/condensate and up to 100 MMcf/d of gas.

Processing will take place on a production platform in 40 m (131 ft) water depth, with output exported via bundled pipelines to existing onshore infrastructure, 30 km (18.6 mi) northwest of CI-202.

The pipelines will have capacities to carry up to 40,000 b/d of oil and 230 MMcf/d of gas, allowing for further infill drilling at Gazelle and tieback of satellite fields. Rialto intentionally has located the central field facilities to serve as a hub for low-cost development of any future finds in the block.

Additionally, the government has granted Rialto an Exclusive Exploitation Area over the Gazelle field, which will cover an area of 58.5 sq km (22.6 sq mi) and which will last for 25 years.

The final investment decision for Gazelle is expected in mid-2012 following completion of Rialto's first-half drilling campaign. Drilling of the first two development wells will start in February using the jackup GSF Monitor. A third well will test the potentially 80-MMbbl Chouette prospect.

A recently signed Memorandum of Understanding sets out commercial terms for the delivery of gas quantities of up to 100 MMcf/d, based on a minimum seven-year production profile generated using identified mean contingent resources within Gazelle.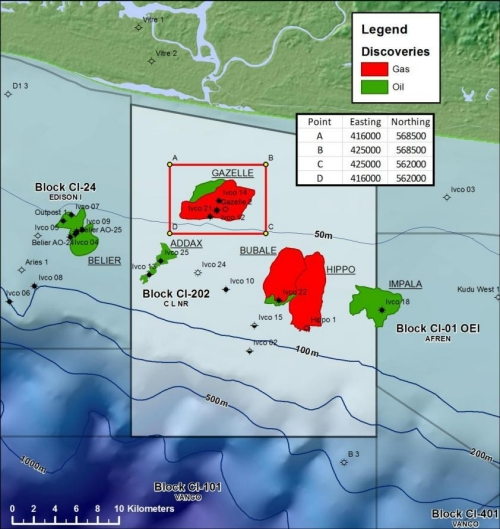 12/16/2011