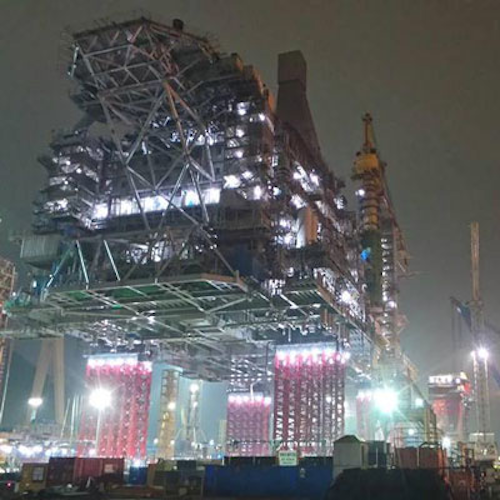 Offshore staff
STAFFORDSHIRE, UK– ALE has successfully completed the jacking of the Arkutun-Dagi topsides for Exxon Neftegaz Ltd. at Daewoo Shipbuilding & Marine Engineering Co. Ltd.'s shipyard in Korea. 
At 42,780 metric tons, the topsides is the heaviest load ever jacked. The piece will eventually be located in theArkutun-Dagi field offshore eastern Russia. The development is expected to be the largest oil and gas production platform in Russia. First oil is scheduled for 2014.
ALE jacked the topsides to a height of 24 m (79 ft), which is the first project of this kind using its Mega Jack system. To complete the project the Mega Jack was configured in four sets of towers each made of a combination of three singular towers; this gave each of the four towers capacity of 15,000 metric tons and an overall jacking capacity of 60,000 metric tons. The Mega Jack is a completely computerized and stroke controlled system that is operated via a control room. The company says it took 11 hours to complete the 24-m lift during maximum wind speeds of 50 m/s.
The next phase of work included the installation of a skid frame (DSF), which the topsides was lowered to by the Mega Jack. This was also completed within a day. The next phase will see the topsides loaded out onto the DSF by a pulled load out using strand jacks to a barge for onward transportation to its final destination.
Kees Kompier, executive director at ALE, said: "This pioneering project is a great achievement for ALE and the Mega Jack, which was created by our research and development team and engineers. The load is nearly double the weight of the previous heaviest load, which is a great accomplishment for the company and really shows the capabilities of the Mega Jack."
5/29/2013