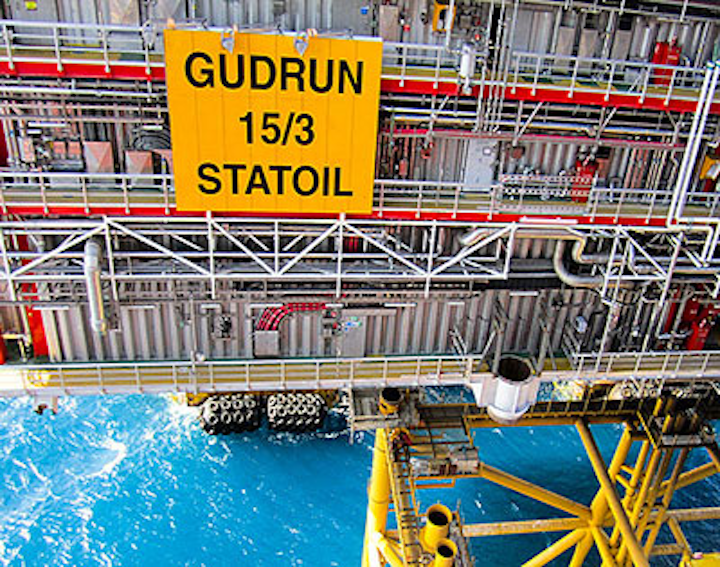 Offshore staff
STAVANGER, Norway – Saipem has installed the 10,600-metric ton (11,684-ton) deck for Statoil's Gudrun platform in the Norwegian North Sea.
Following mating to the 7,000-metric ton (7,716-ton) steel jacket, work will start on preparation for first production of oil and gas early next year.
According to Øystein Michelsen, Statoil's executive vice president for development and production Norway, the development is estimated to cost $337 million less than the originally budgeted $3.53 billion.
"We were given good prices when we awarded the contracts in 2010, in a market characterized by the financial crisis," said Margaret Øvrum, executive vice president for technology, projects, and drilling.
"Just as important were the strict change controls during the project and strong commitment across the entire Gudrun organization in order to meet this savings target. All the different disciplines have contributed," she added.
Aibel had the engineer, procure, install, and commission contract for the deck. Two of the deck modules were constructed at the company's shipyard in Thailand and one at the yard in Haugesund, western Norway, with support from Poland.
The helicopter deck was produced in China and the living quarters by Apply Leirvik.
Gudrun, discovered in 1975 in the central Norwegian North Sea, is in license PL025, around 55 km (34 mi) north of the Sleipner offshore complex.
Statoil estimates recoverable reserves at 126.5 MMboe, comprising around two-thirds oil, and one-third gas and NGLs.
The 16-slot Gudrun platform will have process facilities for partial stabilization of oil and gas, both of which will be sent to the Sleipner A platform for onward export.
7/22/2013