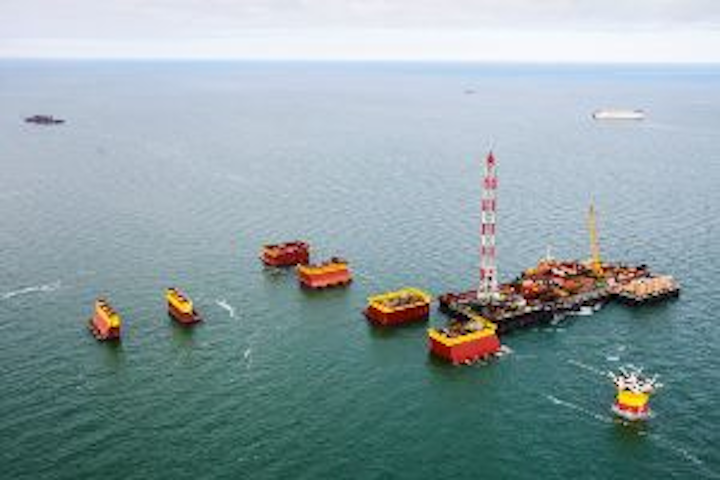 Offshore staff
MOSCOW– Assembly has been completed of bearing blocks for the main offshore installations at Lukoil's Vladimir Filanovsky field in the Russian sector of the Caspian Sea.
These are the ice-resistant stationary platform, the central processing platform, the living quarters module platform, and the riser block.
A transport/installation barge with a 400-ton capacity crane fixed the bearing blocks to the seafloor via piles of more than 2 m (6.5 ft) dia. and wall thickness of up to 80 mm (3.1-in.), driven to a depth of 60 m (197 ft). The piles are designed to withstand extreme ice and wave loads.
Additionally, 77 km (48 mi) of subsea oil pipeline and 61 km (38 mi) of subsea gas pipeline have been installed, along with 40 km (25 mi) of inter-field oil pipelines and 40 km of inter-field gas lines, connectingV.Filanovsky with the producing Yu.Korchagin field.
In 2014, topside sections will be mounted on the bearing blocks, and construction will start of onshore gas pipelines to the Stavrolen petrochemical enterprise in Budennovsk, and an oil pipeline to oil intake facilities close to the Komsomolskaya oil pumping station owned by the Caspian Pipeline Consortium.
Development drilling should also start next year, with first oil slated for the end of 2015.
12/17/2013