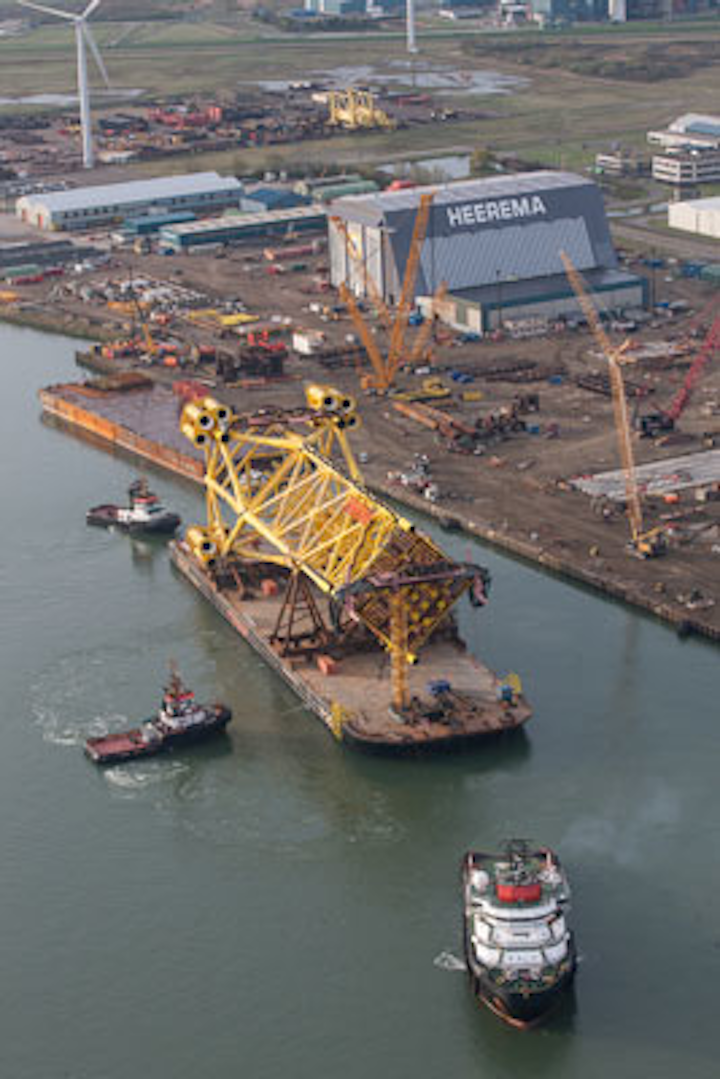 Offshore staff
HARTLEPOOL, UK – Heerema Fabrication Group (HFG) has completed the wellhead platform jacket and access deck for Maersk Oil's Culzean field development in the UK central North Sea.
The jacket has sailed from Heerema Vlissingen in the Netherlands and the deck from Heerema Hartlepool in northeast England. On arrival at the offshore location, both will be installed by Heerema Marine Contractors.
Heerema Zwijndrecht fabricated two of the four pile sleeve clusters, while HFG Polska built the conductor guides and the grillage.
The jacket is 114 m (374 ft) tall, with a footprint of 31 x 31 m (102 x 102 ft) and a top section of 22 x 22 m (72 x 72 ft). All structures combined weigh 7,100 tons.
Patrick Put, HFG's project manager Culzean, said: "It is a twisted base jacket, which means that the bottom…, with the pile sleeve clusters, is twisted 45° with respect to the tower, to provide better access to the drill rig."
Last SeptemberMaersk Oil awarded HFG a second contract for Culzean involving engineering, procurement, and construction of the jackets for the central processing facilities and utility/living quarter platforms.
Construction started early this year in Hartlepool and Vlissingen.
Culzean, discovered in 2008, is 250 km (155 mi) east of Aberdeen in block 22/25a in 88 m (289 ft) of water. The reservoir is 4,300 m (14,107 ft) below sea level.
All three platforms will be linked via two 100-m (328-ft) long bridges. First gas/condensate is expected to flow in 2019.
04/14/2016
Share your news withOffshore at news@offshore-mag.com