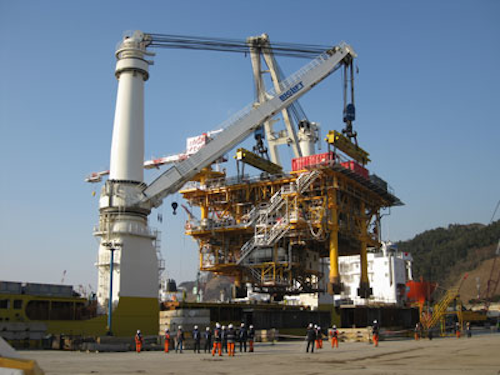 Offshore staff
AMSTERDAM, the Netherlands– BigLift Shipping'sHappy Star has transported the 1,000-metric ton wellhead production topsides module from Ulsan, Korea, to the Yadana gas field offshore Myanmar.
SapuraAcergy awarded BigLift Shipping the transportation contract.
The vessel loaded the topsides module with her two 900-metric ton heavy-lift mast cranes at Hyundai Heavy Industries. According to BigLift Shipping, the most critical element in the project was the lifting operation and the cargo had several limitations in relation to the offshore discharge.
A major challenge was the orientation of the topsides module on deck which had to be exactly in position for the unloading operation. To achieve the correct orientation while loading, the topsides module had to be lifted from the grillage on the quayside, brought above the cargo deck between the cranes, and then rotated to its final position.
Theheavy-lift vessel's wide beam provided ample stability and in combination with the crane capacities this ensured the shortest execution time and safest operation possible. The module's eccentric center of gravity and size created challenges in terms of lifting clearances, safe working load, and outreach.
After a short sea voyageHappy Star arrived at the discharge location offshore Myanmar to meet SapuraAcergy's S3000. The crane successfully lifted the module in a single lift operation, using the slings already laid out on the module's deck, and installed the module onto its offshore foundation.
04/05/2016
Share your news withOffshoreat news@offshore-mag.com