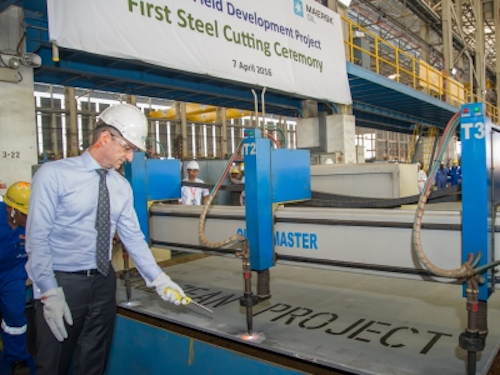 Offshore staff
SINGAPORE– Fabrication of the topsides destined for the Maersk Oil-operated UK North Sea Culzean project has begun.
The steel-cutting ceremony for the first of threeKBR-engineered topsides modules took place at the Sembcorp Marine Offshore Platforms' (SMOP) Admiralty Yard in Singapore.
The operator said that Culzean, sanctioned in August 2015, is the largest hydrocarbon discovery in the UK North Sea in more than a decade.

The high-pressure/high-temperature field is about 145 mi (233 km) east of Aberdeen and is expected to produce between 60,000-90,000 boe/d at plateau production, producing for at least 13 years.
Maersk Oil CEO Jakob Thomasen said: "Starting the fabrication of the topsides is an important milestone. When the field begins to produce in 2019, Culzean will become a key contributor to Maersk Oil's ambition to become a Top 5 operator in the North Sea in the 2020s, and provide around 5% of UK gas demand at peak production. Maersk Oil and [its] co-venturers' investment will also support employment in both the UK and Asian supply chains."
The contract with SMOP, worth more than $1 billion including long lead items, was awarded in September 2015 and includes the building of the central processing facility plus two connecting bridges, wellhead platform and utilities, and living quarters platform topsides for the $4.5-billionCulzean field development.
The operator also noted that platforms will be built with digital and monitoring capability.
Martin Urquhart, Culzean project director, said: "We will be harnessing technology to develop a 21st century facility with the ability to remotely monitor critical equipment 24 hours a day, and enable offshore colleagues to access real time data and immediate technical evaluation and onshore support.

"The technology will minimize time spent on plant and enhance safety and efficiency. Maersk Oil estimates this digital toolkit can save more than $10 million annually."
Co-venturers in Culzean are JX Nippon Exploration & Production (UK) Ltd. (34.01%), and BP (Britoil) (16%).
04/07/2016
Share your news withOffshoreat news@offshore-mag.com