Statoil outlines costs, timing for Johan Sverdrup offshore Norway
Statoil and its partners have submitted their plan for development and operation for Phase 1 of Johan Sverdrup in the North Sea to Norway's Ministry of Petroleum and Energy.
Feb 13th, 2015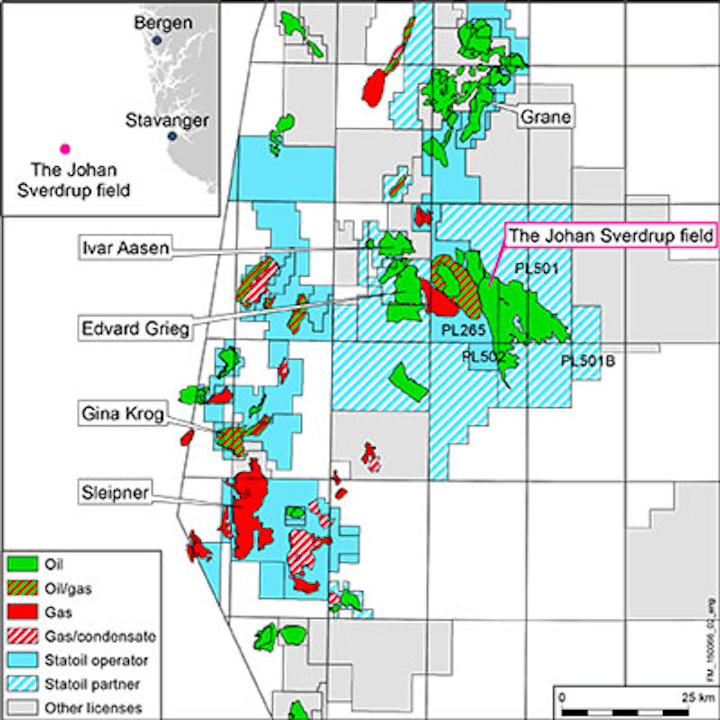 Offshore staff
STAVANGER, Norway – Statoil and its partners have submitted their plan for development and operation (PDO) for Phase 1 of Johan Sverdrup in the North Sea to Norway's Ministry of Petroleum and Energy.
They estimate capex at NOK 117 billion ($15 billion), rising to NOK 220 billion ($29 billion) when further phases are developed, with ultimate recoverable resources of 1.7-3 Bboe.
The Johan Sverdrup field spans production licenses PL 265, 501, and 502. Lundin drilled the initial oil discovery well in PL 501, awarded in Norway's APA 2008 round.
Phase 1 facilities will includefour bridge-linked platforms and three subsea water injection templates. Statoil says the long-term goal is a recovery rate of 70%, taking into account advances in technology for increased oil recovery (IOR) in future phases.
Lundin says the 22 appraisal wells drilled on Johan Sverdrup have shown that the reservoir is of exceptional quality and production tests indicate that well productivity will be very high. As a result, ramp-up periods to plateau production both for Phase 1 and subsequent phases should be very short.
The Phase 2 development is expected to enter production in 2022.
Lundin estimates annual operating costs for Phase 1 at NOK 3.8 billion ($501 million), which suggests an operating cost of less than $5/bbl at peak production.
The partners, which include Petoro, Det norske oljeselskap and Maersk Oil, have recommended Statoil serve as operator for all phases of the field development and operation.
The majority of the partnership has also asked the Ministry to determine the final allocation of resources in Johan Sverdrup as follows: Statoil 40.0267%, Lundin Norway 22.12%, Petoro 17.84%, Det norske oljeselskap 11.8933%, and Maersk Oil 8.12%.
In addition, the partners will submit two plans for installation and operation (PIO) for pipeline transportation and the development of a power from shore solution. Norway's parliament (Storting) has decided that the field will be developed withpower from shore, and that an area solution for the other fields on the Southern Utsira High region must be in place by start-up of Phase 2 in 2022.
According to Kjetil Aasoldsen, assistant director of the Norwegian Petroleum Directorate responsible for fields and developments in the southern part of the Norwegian North Sea, the directorate has closely monitored delineation of the field and all phases of the project development leading up to the PDO.
Topics under special scrutiny included securing flexibility, future business opportunities, and improved recovery. NPD believes that injection of polymers is a method that could be applied to boost recovery.
"This method is rarely used on the Norwegian shelf, but we believe there is a major potential here on Johan Sverdrup. The NPD will focus on this in the assessment of the PDO for the first development stage, and in the work on future field development stages," Aasoldsen said.
"The large [Norwegian] fields have the economic backbone to drive development of technology that can subsequently be used on other fields. Therefore, the NPD has great expectations for Johan Sverdrup as regards the use of new technology."
In tandem with reviewing the PDO for the first phase of the development, the NPD has started to follow up the work on the remaining construction stages.
02/13/2015