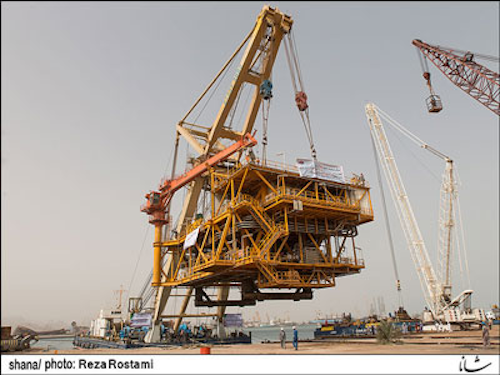 Offshore staff
TEHRAN, Iran – The Sadaf-3.000 barge was due to transport a topsides manufactured in Bandar Abbas, southern Iran, to a new platform commissioned by Petro Iran Co. to produce from the oil layers of the South Pars gas field in the Persian Gulf.
According to news service Shana, the 890-ton topsides will be used to extract 20-35,000 b/d of oil under the first phase of the two-phase development, starting in March 2016.
A final decision on development of the second phase will be taken after conducting more studies on the viability of the plan, Shana added.
Ali-Reza Zeighami,South Pars oil layers project manager, said that to date seven wells have spudded in the oil layer, and that new rigs mobilizing to the location would provide more accurate estimates of hydrocarbon reserves in the field, jointly operated by Iran and Qatar.
The oil layer of South Pars is estimated to contain 7 Bbbl in place.
Phases 15 and 16 of South Pars should come onstream in June, according to manager Reza Forouzesh in another Shana report. These two phases are designed to produce 50 MMcm/d (1.8 bcf) of natural gas and 80,000 b/d of gas condensate.
Shana also expected an Omani delegation to travel to Tehran to discuss aplanned gas pipeline project with Iranian officials.
According to Ali-Reza Kameli, head of National Iranian Gas Exports Co., this will lead to selection of an Iranian consultant for basic engineering studies and offshore issues related to Iran's gas exports.
The plan is to lay a 200-km (124-mi) pipeline from Mountain Mobarak across the Persian Gulf to Sahar Port in Oman, he added.
In 2013, Iran agreed to supply 28 MMcm/d (1 bcf/d) of gas to Oman through asubsea pipeline for 15 years.
04/29/2015