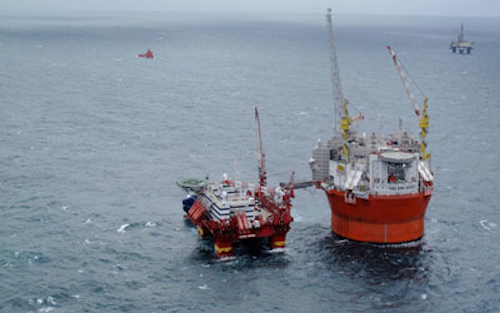 Offshore staff
SANDNES, Norway – Final preparations are under way for start-up later this summer of the circular Goliat FPSO in the Norwegian sector of the Barents Sea.
Following the arrival of the platform from South Korea in early May and a short stop-over in the fjord outside Hammerfest, the mooring operation has been completed, according toGoliat operator Eni Norge.
Also connected and commissioned is the subsea power cable that will supply the field with electricity from the Norwegian mainland.
TheNormand Pioneervessel is hooking up the pre-installed risers and umbilicals, allowing the subsea facilities to be fully connected to the processing facility on the platform.
Focus of the next phase will be comprehensive commissioning and testing of equipment and the production facilities, combined with preparatory and completion operations prior to bringing the field into production.
TheFloatel Superioris alongside providing sufficient manpower for the offshore installation phase. Eni Norge says the extra accommodation allows preparations for start-up to be speeded up.
Finally, the semisubmersible has completed drilling five oil producer wells, two gas injectors, and one water injector. Eventually 22 wells will be connected to the platform.
06/22/2015