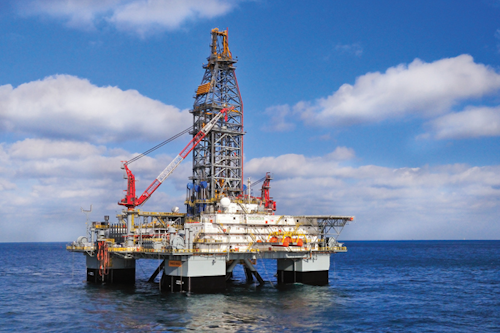 BOEM details next region-wide Gulf of Mexico lease sale
The Bureau of Ocean Energy Management will offer 78 million acres in a region-wide lease sale this month.
Lease Sale 252 will include all available unleased areas in federal waters of the Gulf of Mexico. The sale will include about 14,696 unleased blocks, located from 3 to 231 mi (5 to 372 km) offshore, in the Gulf's Western, Central and Eastern planning areas in water depths ranging from 9 to more than 11,115 ft (3 to 3,400 m).
The sale, scheduled to be livestreamed from New Orleans, will be the fourth offshore sale under the 2017-2022 national outer continental shelf oil and gas leasing program.
The Gulf of Mexico OCS, covering about 160 million acres, is estimated to contain about 48 Bbbl of undiscovered technically recoverable oil and 141 tcf of undiscovered technically recoverable gas, according to BOEM.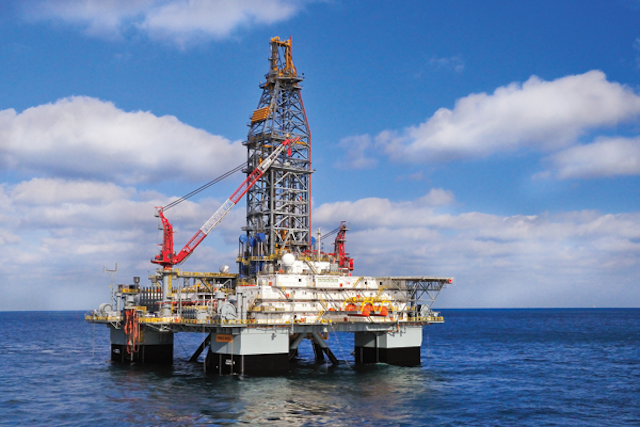 Ensco says that Apache has awarded the semisubmersible ENSCO 8503 a four-well contract for work in the Gulf of Mexico, from June to August 2019. (Courtesy Ensco plc)
Sentinel Midstream proposes deepwater crude oil export facility
Sentinel Midstream has outlined its planned development of Texas GulfLink, a deepwater crude oil export terminal near Freeport, Texas.
The completed facility will be capable of fully loading very large crude carriers, the company said.
Texas GulfLink will include an onshore terminal with up to 18 MMbbl of storage, a 42-in. offshore pipeline, and a manned offshore platform to facilitate port operations with two catenary anchor leg mooring single point mooring buoys. The company said projected export loading rates will be up to 85,000 b/hr, with a nominal capacity of 1.2 MMb/d over the course of a calendar year.
Sentinel Midstream President and CEO Jeff Ballard said: "Texas GulfLink will provide the United States with an economical solution to clear the over-supply barrels destined for the Gulf Coast. We have compiled a team of industry leading professionals who possess unique experience in construction and operations of deepwater ports and are well positioned to leverage that experience as prudent operators.
"Our team of seasoned professionals is committed to developing Texas GulfLink with a specific focus on exceeding industry standards for safety and environmental protection."
Over the past year, the company developed Texas GulfLink in conjunction with multiple stakeholders, including federal, state, and local agencies. The project has secured necessary commercial support to justify the capital investment and is preparing its submission of a formal permit with the United States Maritime Administration (MARAD).
Project financing is being provided by Cresta Fund Management.
Cresta Managing Partner Chris Rozzell said: "We view the company's value proposition, which provides a neutral infrastructure solution without the inherent conflicts of affiliated marketing, as the best approach to support the interests of US producers and lead to the greatest outcome for all stakeholders."
LLOG commissions McDermott for Stonefly subsea tieback
LLOG Exploration Co., L.L.C. has awarded McDermott International Inc. an EPCI contract for the Stonefly subsea tieback to the Ram Powell TLP in the deepwater Gulf of Mexico.
Located about 140 mi (225 km) southeast of New Orleans in Viosca Knoll block 999, the Stonefly development calls for a two-well subsea tieback to the Ram Powell platform via 60,000 ft 6-in. pipeline at water depths ranging from 3,300 to 4,100 ft (1,006 to 1,250 m).
The scope of work includes project management, installation engineering, subsea structure and spoolbase stalk fabrication, and installation of the subsea infrastructure. McDermott will also design, fabricate, and install a steel catenary riser, a pipeline end manifold, and two in-line sleds.
Structure design and installation engineering began in January in McDermott's Houston office. The North Ocean 105 vessel is expected to install the subsea infrastructure in 3Q 2019.
GulfSlope updates drilling at Tau prospect
The Tau prospect well has drilled through about 7,000 ft (2,134 m) of salt where high pressures and hydrocarbons near the base of salt were encountered and significant mud losses occurred, according to operator GulfSlope Energy Inc.
The company is currently tripping for a different drilling assembly to clean out the existing wellbore and possibly run casing prior to drilling below salt.
The Tau prospect well targets multiple Miocene sand levels trapped against a well-defined, angled flank of the large salt structure. The correlative target subsalt Miocene sand levels are oil productive at the nearby subsalt Mahogany field.
Tau is the first of eight drill-ready exploratory prospects that the company intends to drill along the Louisiana outer continental shelf, targeting the subsalt Miocene play.
GulfSlope is the operator with a 20% working interest. Delek GOM Investments LLC owns a 75% working interest and Texas South Energy Inc. owns a 5% working interest.