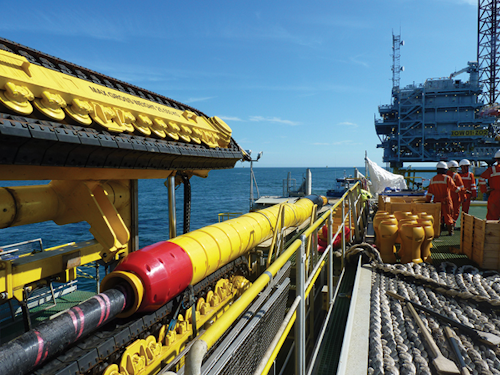 Tekmar cable protection system selected for Northwester 2
Tekmar Energy says that the offshore installation contractor Jan De Nul Group has selected the Tekmar Cable Protection System (CPS) TekLink Mechanical Latch for the Northwester 2 offshore wind farm.
Northwester 2 will be the sixth windfarm in the North Sea off the Belgian coast, consisting of 23 turbines and will provide a total of 219 MW from its location off the coast of Zeebrugge, in water depth of approximately 40 m (131 ft). The project is set for completion in 2020.
Russell Edmondson, Managing Director of Tekmar Energy said: "We are delighted for Tekmar to be selected as the cable protection system supplier for Northwester 2. This continues Tekmar's trusted relationship with Jan De Nul Group and furthers our position as the world market leader in offshore wind cable protection systems; marking Tekmar's 66th project within the industry, taking the total number of systems over 6,700 and 22GW of protected subsea electrical infrastructure worldwide."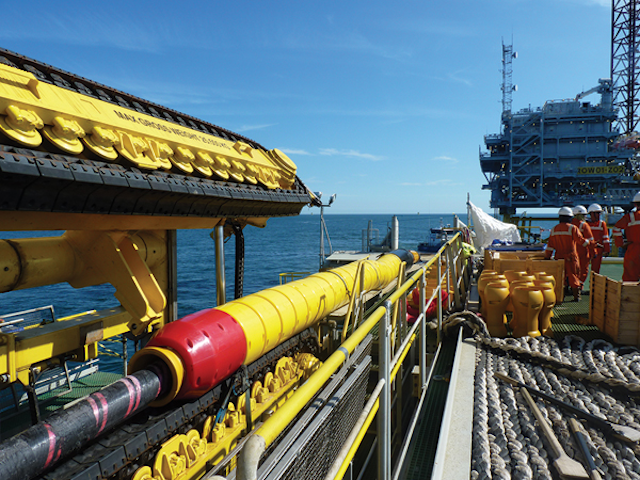 Tekmar Cable Protection System on the back of a Jan De Nul Group vessel installing an offshore wind project.
The award also continues the success of Tekmar in the region, after being selected for several adjacent windfarms including Belwind, Belwind demonstration, Thornton Bank 2 and 3 and Borselle 1, 2, 3, and 4.
Stan Logghe, Senior Project Manager at Jan De Nul Group said: "Cable protection systems are vital for protecting the electrical infrastructure of offshore wind farm projects. We have worked with Tekmar for many years, on projects including Burbo Bank and Race Bank, and Northwester 2 builds on our strong and trusted relationship."
As part of the project, Tekmar will supply its latest TekLink Generation 8 cable protection system for all inter array and export cables.
AgileTek Engineering, a Tekmar Group company, also supported the project using its proprietary AEL cloud system, providing verification of the cable protection system design via global analysis of the cables and CPS on the project.
The product will be produced within Tekmar's manufacturing facility in northeast England during 2019.
Energy producers join forces to bid for Dunkirk offshore wind farm
Total,Ørsted, a renewable major, and Elicio, a renewable energy producer preselected by the French Energy Regulatory Commission, have created an industrial consortium to submit a joint bid for the Dunkirk offshore wind farm project for a power capacity of up to 600 MW.
Philippe Sauquet, President Gas, Renewables and Power at Total said: "Total's participation in this offshore wind bid is in line with our strategy to develop low-carbon electricity business in Europe. Our recognized offshore oil and gas know-how combined withØrsted market-leading expertise across the offshore wind energy value chain, as well as that of Elicio, an experienced developer qualified from the beginning of the bid, provide a solid foundation for success of a safe and competitive project."
Martin Neubert, CEO ofØrsted Offshore, said: "Offshore wind can contribute significantly to France's renewable energy targets. As the world-leading offshore wind developer, we bring an unparalleled track-record in developing, constructing and operating offshore wind farms to the consortium, and the combined competencies of Ørsted, Total, and Elicio are ideal to help France unleash its significant potential for developing clean power from offshore wind."
Emile Dumont, President of Elicio France, said: "Wind energy has significant growth potential in France and is at the heart of Elicio's strategy to contribute towards a cleaner and cost-effective energy powered world. Further to Elicio's successful preselection for the French round 3 competitive dialogue and by joining our unique expertise and experience, we are committed, with our partners Total andØrsted, to making this tender a milestone in the French offshore wind sector."
SeaOwls, Ulstein go their own ways in heavy lift jackup vessel market
Rotterdam-based companies SeaOwls and Ulstein Design & Solutions have decided to each go their own separate ways in the offshore wind industry. The patent rights of the SOUL concept were developed under the cooperation of both companies and will continue to be held by both SeaOwls and Ulstein. Each company will pursue its own business opportunities based on the shared patent.
The heavy lift jackup vessel design concept is said to be the safest and most efficient solution to transport and install the world's largest and powerful offshore wind turbines in the coming decades. SeaOwls and Ulstein say they are committed to assist their clients to build the most suitable jackup vessel to enable the industry to take the next step to a sustainable world.