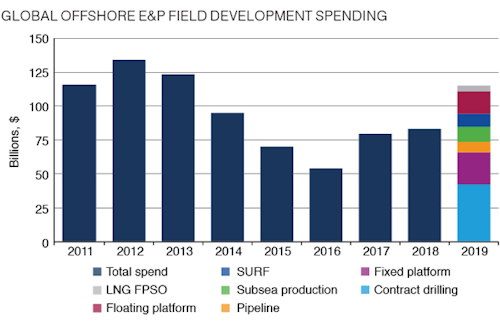 Second half of 2019 will see 177 prospective subsea tree awards
Mark Adeosun, Westwood Energy
Despite agenerally underwhelming end to 2018 that saw the Brent barrel lose over half of its value between October and December, expectations for the offshore supply chain in 2019 are optimistic. After averaging $81 billion over 2017-18, E&P field development spending across the global offshore industry is expected to hit $115 billion in 2019.
Notably, the deepwater and subsea markets are expected to see a significant uptick in activity following on from an excellent 4Q 2018 that saw 129 subsea tree awards – more than double those recorded for the entirety of 2016. The first half of 2019 is expected to see a further 174 tree awards, including the eight already contracted to TechnipFMC by BP following FID in January on its Atlantis Phase 3 project in the US Gulf of Mexico.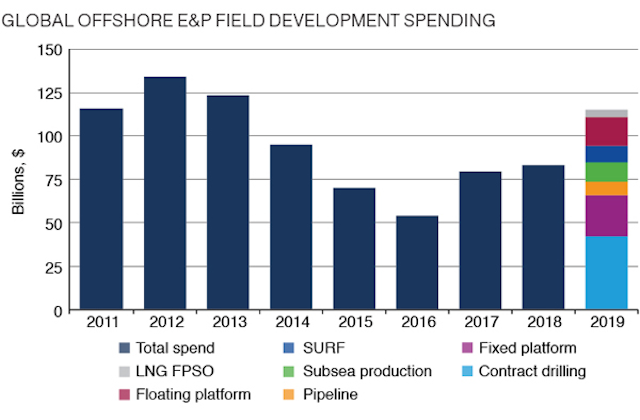 The second half of the year will see a similar volume of order intake with a further 177 prospective tree awards. Major subsea contracts expected over 2019 include INPEX's Ichthys Phase 2 offshore Australia, Woodside's Sangomar Project offshore Senegal as well as Buzios, Mero, and Sepia offshore Brazil. These projects are in addition to the pre-FID awards for Anadarko's Golfinho development offshore Mozambique and Premier Oil's Sea Lion offshore the Falklands to TechnipFMC and Dril-Quip, respectively.
While this anticipated surge will be most welcomed by a still beleaguered supply chain it may not be sustained as E&Ps push through long-awaited FIDs to exploit the current low-cost environment. Assuming limited FID slippage from Westwood Global Energy's reference-case offshore field development outlook, 2020 tree orders could stumble to 285 – a drop of 20% versus 2019 (albeit still a significant improvement over 2016-17).
Expenditure on floating production systems is expected to mirror the uptick in subsea production systems growing from just under $8 billion in 2018 to $21 billion in 2019. Over the past couple of years, FPS spend has been characterized by the emergence of FLNG. However, conventional FPSOs will take center stage this year with just under $17 billion of contract awards anticipated. Major upcoming tenders include ExxonMobil's Payara, ConocoPhillips' Barossa, and the Petrobras Buzios-5 FPS projects.
Regionally, Latin America will dominate offshore field development expenditure in 2019, accounting for 28% of global spend. Despite Guyana taking much of the spotlight in 2018, activity this year will be principally driven by a resurgent Brazil with Petrobras recently announcing a five-year capex plan of $84.1 billion, a 13% increase over last year's plan. In addition to this, the opening of Brazil's deepwater basins to foreign investment will help ensure that the Brazilian market maintains its leading position for subsea developments post-2019.
The development of major gas reserves in the East African basin and Mauritania is expected to be the key driver of offshore spend in Africa. However, after a period of dormancy, the Gulf of Guinea will experience a boost, with the expected sanctioning of projects such as BP's Platina and Eni's Kalimba projects offshore Angola. However, continued delays to Shell's Bonga South West-Aparo and Eni's Zabazaba developments represents a downside to future expenditure in the region.
The US Gulf of Mexico has been impacted by several high-profile disappointing appraisal wells, including Coronado, Yucatan North, and Moccasin. This has led operators to downsize field reserves, and re-evaluate and delay field development concepts. Regional field development spend is expected to total just $6.7 billion in 2019 or 6% of the global total. •