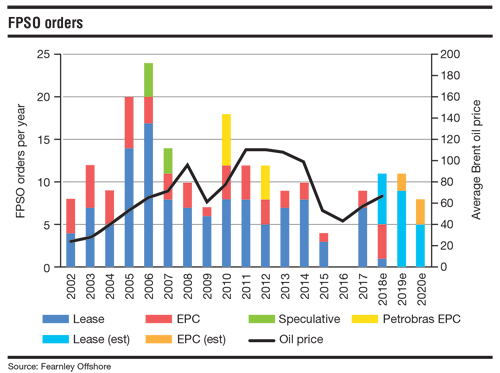 Growth expected in 2019 and beyond
Christopher M. Barton
Wood
There was little to no increase in the number of deepwater production units in operation between 2017 and 2018, essentially signaling a flat market. This fact is not surprising, given reduced exploration budgets since 2014; lead-time needed to design and build floating facilities; and the slow uptick in the oil price. A marked increase occurred starting in mid-2017. Since then, oil prices have risen by almost 30%, helping to buoy the offshore industry as operators start to spend again.
In compiling the 2018 Worldwide Survey of Floating Production Storage and Offloading (FPSO) Vessels, Wood,Offshore, and key industry contributors determined that the FPSO segment grew slightly from 178 operating vessels at year-end 2017, to 183 vessels either operating or slated to reach first production by the end of 2018. The marginal growth was further impacted by a small year-on-year reduction in the number of vessels available for redeployment. This year's survey showed only 16 vessels in that category, reduced from 19 in 2017.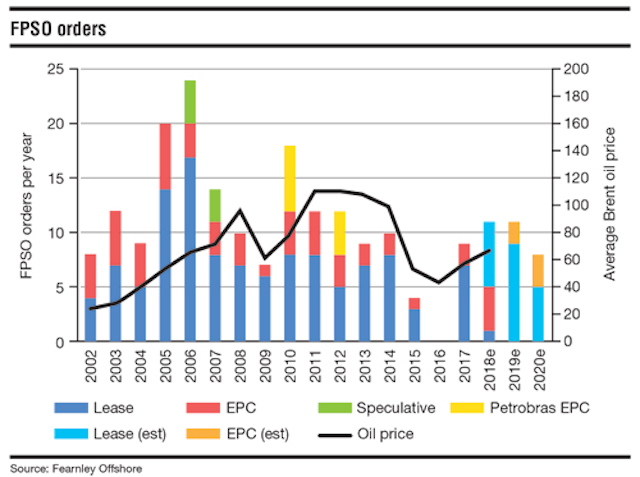 Exceptions to this relatively flat trend lie in the projected growth of semisubmersible floating production units (Semi-FPU) and, more dramatically, in new FPSOs on order or planned for the next three to five years, beginning in 2019. Both of these floater types rely on wet tree subsea production solutions. Their upward trend has supplanted the growth of new orders for deepwater dry tree floating units, including spars and TLPs, for which short-term prospects are essentially non-existent.
Current industry projections are showing 2018 as the plateau year, after four years of offshore capital spending declines that approximated 50%. During that four-year period, while operators reduced their exploration budgets, they dramatically increased success rates with targeted drilling campaigns. Even though the oil price has risen above $60/bbl, project economics are still being based largely on breakeven costs below $50/bbl. Industry analysts have projected that beginning in 2019, the downward capex trend will reverse in advance of a robust period expected through 2022 and possibly beyond.
This year's survey, substantiated by numerous sources, shows that as of July 1, 2018, there were 16 FPSOs on order or under construction for delivery in 2019 and beyond. Half of these are contractor-owned for lease and the other half are operator-owned. In addition, projections indicate that there are 15 strong candidates for project sanction in 2019 and seven more in 2020.
FPSO suitability
FPSOs have proven themselves adaptable during times of fluctuating market change. They have provided global offshore markets with cost-effective solutions in a variety of field development scenarios, including those with marginal production. Their water depth capability allows them to be suitable for water depths ranging from less than 50 ft (16 m) offshore West Africa to more than 9,500 ft (2,900 m) as demonstrated by the ShellTurritella FPSO in the US Gulf of Mexico.
The life extension of FPSOs has been made possible through upgrades and modifications following decades of service. While some vessels have been scrapped after serving their useful field life, many others have become available for redeployment after being suitably refurbished for a new assignment. One notable vessel, Teekay'sPetrojarl 1, delivered first production in May 2018 from the Atlanta field offshore Brazil. Its new assignment, the 12th redeployment in its 30+ years of operating history, is currently producing in 5,118 ft (1,560 m) of water, considerably deeper than its last service in the Norwegian North Sea, in 328 ft (100 m) water depth.
A number of vessels have been singled out for new assignments in 2019 after having been idle for a prolonged period. For example, Yinson Holdings'Four Rainbow is being refurbished for service as the FPSO Helang in Malaysia after being out of service for six years. Similarly, Bluewater's Aoka Mizu is nearing the completion of its upgrades for early field production service in 1Q 2019 in the UK North Sea after being idle since 2016.
While exploration of the available FPSO vessel market is a logical initial step in locating a cost-effective field development solution, there are many factors that dictate their viability for re-deployment. In addition to water depth at the new location, the process design, throughput capability and general condition of the vessel (from lying idle) can be problematic. With fewer available vessels, this raises a conundrum for operators in deciding how to select floating production solutions for their field development projects. The amount of work varies substantially from vessel to vessel and can vary from several months to several years.
Future trends
FPSO industry players are continuing to develop new designs in anticipation of the next industry upswing. From the earliest ship-shaped vessels created from the basic conversion of oil tankers in the 1970s, the industry has transitioned from single- to double-hull designs and increased storage capacities, requiring conversion of very large crude carriers. Newbuild vessels were offered for addressing field-specific issues including additional throughput, harsher weather, and increased storage capability. As part of the newbuild trend, cylindrical hull designs were introduced to minimize the complexities and cost of turret mooring systems.
Standardization
Standardization has increasingly come into focus as a means to lower costs and reduce the delivery schedule in the 'lower for longer' oil price environment. There are several notable examples of this trend. Petrobras, the industry's largest vessel operator, helped initiate this approach with identically-designed vessels P58 and P62 which came online in 2014. Since then, Petrobras' program of eight replicated newbuild vessels have entered and continue to enter the market with comparable throughputs and storage capabilities. Conversions, too – as with the FPSOsCidade de Marica and Cidade de Saquarema – were supplied as sister vessels to operate in identical water depths with the same production, storage and mooring capabilities.
Vessel contractor SBM Offshore has also begun fabrication work on its Fast4Ward concept. The firm contends that this speculative vessel, with its generic hull design, targeted at Brazilian and West African waters, has the potential to provide a cost-effective solution via an accelerated delivery that could reduce schedule time by up to 12 months.
New concepts
Technology improvements continue to be forthcoming as well. New hull configurations that capitalize on existing design improvements have been promoted as cost-effective concepts for consideration. One recent concept by CeFront Technology is based on "squaring" of the cylindrical hull and including a ship-type bow. CeFront claims they are building on pros from existing designs and avoiding the cons. The target is a design that has favorable motions, lower steel weight/cost, familiar topside arrangement and low project execution risk. Another deep-draft concept, INTECSEA's Low Motion FPSO (LM-FPSO) with a stabilization plate below the hull, is being developed to incorporate the positive features of a semi-FPU with an FPSO hull structure above the water line.
Conclusion
The offshore deepwater floating production market, specifically for FPSOs and Semi-FPUs, is expected to significantly increase in 2019. Increased oil prices, new design concepts, fabrication and integration innovations at global shipyards, creative financing options, and industry partnerships are all factors that are contributing to this projected upswing in activity. The momentum has already begun, with newly sanctioned projects on the rise. Cyclical and structural market changes are finally coming together to move major projects forward.