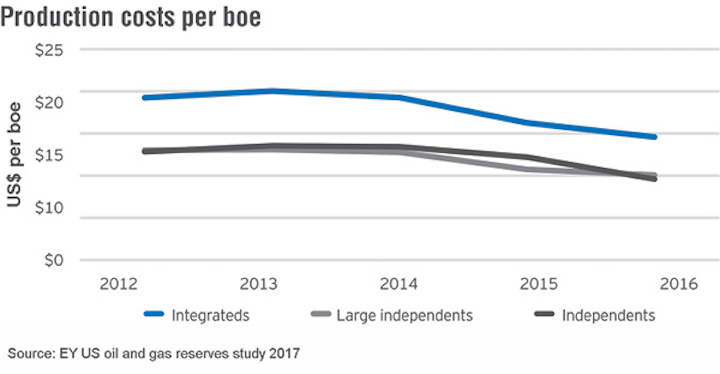 Deborah Byers
Vance Scott
Ernst & Young LLP
A key expected strategy for surviving in a low-price environment is portfolio optimization – shedding assets that do not fit a specific geographic strength, technical capability, or risk profile. However, growth – and developing a strategy to produce higher returns over the long term – is crucial for oil and gas companies. While it contradicts recent industry trends, offshore is poised to play a vital role in that future growth.
Survival or growth
During the recent downturn, many oil companies migrated from cost reduction to portfolio rationalization. Some even optimized to a single-basin focus in an attempt to consolidate drilling activity and reduce costs. Frequently, this meant retreating to the predictable returns available in onshore unconventionals.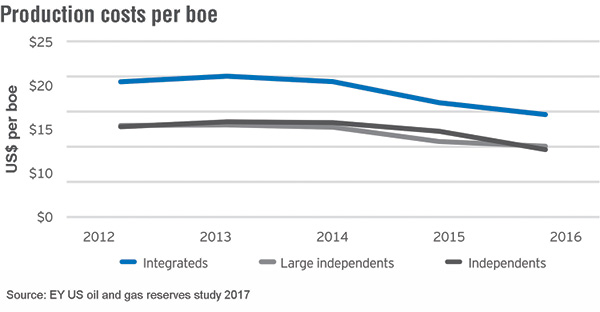 Divesting higher-risk assets was a smart move for many companies – especially highly leveraged firms – when prices fell quickly. But history shows us that prices are unpredictable. If they were to rise over the next 10 years – perhaps due to geopolitical issues or even an unexpected increase in global demand – it makes sense to have a broader reserve base available.
Uncertainty around long-term demand for oil and gas as well as the impact of disruption and pace of innovation is driving oil and gas companies to review their portfolios more frequently. According to the latest EYOil & Gas Capital Confidence Barometer, 78% of global oil and gas executives indicated their companies conduct a review at least every six months.
Even in a downturn, growing reserves are critical for long-term success. Recent analysis based on the EYUS Oil and Gas Reserves Study found top-performing oil and gas companies – those with a return on capital employed between 8% and 22% – grew their reserves by an average of 16%, over the past five years. Meanwhile, companies in the bottom tier did not grow their reserve base at all.
Responding to low oil prices and focusing on fewer plays in recent years, companies may have limited the potential option for strong returns down the road. Keeping inexpensive assets with strong upsides in the portfolio today for longer-term development is one way to shorten the runway for future growth should prices rebound.
Looking toward 2018 and beyond, upstream portfolios may shift again—this time with an eye toward optimizing for growth and consistent cash returns.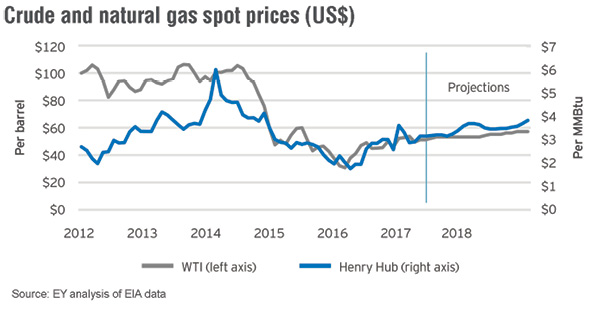 Offshore reborn
Renewed interest in offshore is quietly resurging among oil and gas companies, even while shale dominates their current focus. Driven by the need for baseline production growth and refining demand for balanced crude (heavy, medium, and light), companies will likely move more aggressively to lock down new offshore plays – especially since offshore project long-term economics delivers attractive returns relative to shale over the life of a field.
The rebound will be marked by two primary signs: (1) demand outpacing supply; and (2) a reduction in costs, making offshore projects more attractive.
Overall, we expect steady offshore development increases over the next two to three years. Shale will remain a dominant play, but offshore will become increasingly important to many company portfolios.
Market evolution
It will not be "business as usual" for a newly energized offshore industry, however.
Cost curves are down tremendously in deepwater operations. This is partially driven by technology and operating method advances derived in other offshore operations, and partially through company focus on leaner operations. Prolonged commodity price declines forced companies to remove operating costs, create innovative financing options, and address supply chain efficiency. New found discipline is yielding substantial results and migrating into deepwater operations. Consequently, deepwater break-even economics, and general offshore results, have changed tremendously.
"Offshore advantaged" geographies are expanding. Recently, both Mexico and Brazil concluded successful auctions. Additionally, the Mediterranean, especially offshore Egypt and Israel, is becoming an increasingly attractive natural gas play to supply Europe.
The authors also expect new approaches in offshore oilfield service operating models. Continued improvement in service company design and implementation is necessary to enhance efficiency and reduce costs. Technology advances, the creation of larger, more focused service firms and fully integrated service packages increase offshore viability.
Finally, offshore projects – like most other oil and gas projects – will be evaluated with environmental and climate change implications integrated into decision-making processes. Offshore investments necessitate a long-term view due to cost and timeline. For this reason, companies will increasingly incorporate regulatory risks related to climate change in their cost and benefit reckoning, especially regarding "difficult to reach" oil.
Offshore digitization
Digital technology, such as robotics and automation, will rise in the offshore market and is expected to be a big profitability lever. At the recent Baker Institute Global Energy Summit, one speaker suggested deepwater drilling costs can be cut in half by new technologies, such as digital equipment monitoring.
To capture the full emerging technologies benefit, companies need a smart combination of both human and digital labor. Through intelligent automation and a free-flowing ongoing process, companies can bring together wide-ranging technologies: social, mobile, analytics, cloud computing, and intelligence-driven automation. Integrating across these technologies as well as combining them with the human workforce can deliver major value across the enterprise.
Digital labor will automate many routine tasks, reduce costs, and free employees to focus on improving efficiencies and other value-added activities. But E&P companies need to embrace digital labor across the enterprise through a comprehensive digital strategy rather than attempt piecemeal rollouts in selected back-office functions. Key to these step-change opportunities is elevating digital strategy to the board room and C-suite, where it can be given the proper resources and attention.
As digital becomes more commonplace, the skills employees need may also shift. Therefore, digital strategies must include a dedicated mission to train employees and recruit new talent to ensure the proper digital skills and mindset are integrated throughout the company. Smart operators will recognize a more collaborative organizational structure is possible, and that employees in many functions will require new skills and mindsets. It will not be enough to simply install software and equipment; companies will need to rethink and restructure how they approach E&P from start to finish.
The offshore outlook
The potential for offshore to deliver significant returns over a long timeframe makes it an attractive option for companies seeking higher value opportunities. Already, offshore cost curves have changed tremendously. To maximize offshore (including deepwater) reserves potential – especially in a lower-price environment – companies must accelerate their adoption pace and integrate new technology and processes to reduce costs and enhance profitability.