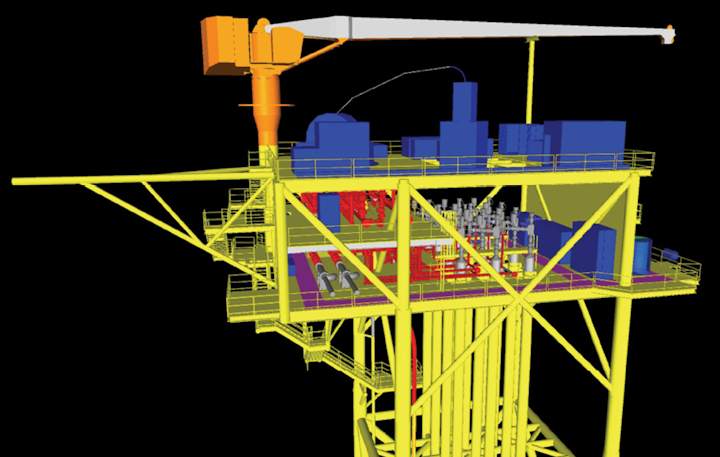 Construction, installation approach offers cost savings
Jeremy Beckman
Editor, Europe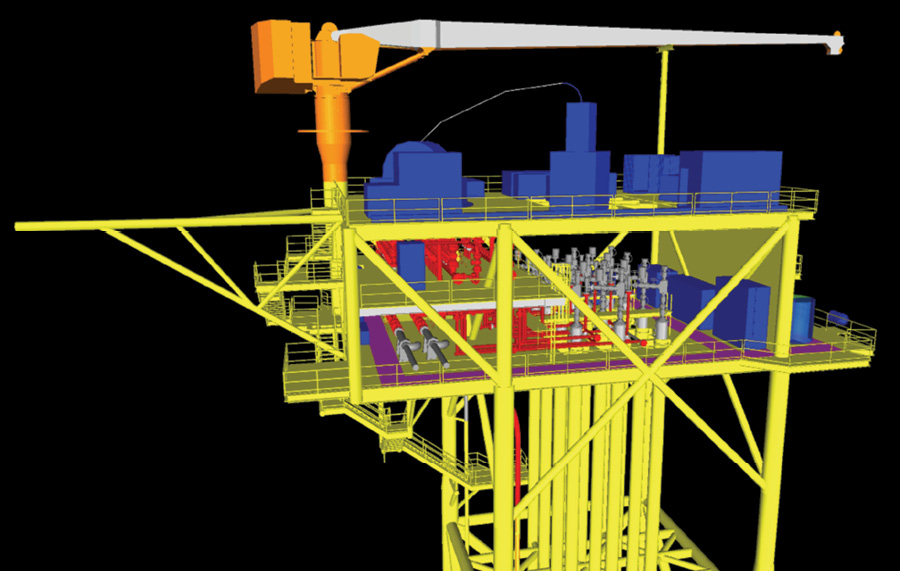 Standard configuration for the topside, prior to any customer-specific modifications. (Images courtesy WorleyParsons)
North Sea operators are reassessing their options for satellite field developments. In the southern gas basin, the standard solution has been a 'building block' approach, tying in lightweight, low-cost wellhead platforms to existing complexes in shallow water depths.
WorleyParsons believes there is a market for such a concept also in the deeper, harsher waters farther north, particularly in the Norwegian North Sea, where there have long been concerns about the high equipment maintenance and intervention costs associated with multi-well subsea tiebacks.
Statoil took this view when opting for an unmanned wellhead platform – the first ever offshore Norway – for its current Oseberg Vestflanken 2 project in the North Sea, co-designed with and constructed by the Heerema Fabrication Group. Statoil claimed improvements during the engineering phase helped lower the project's breakeven price by around 30%, adding that this is a pilot which it believes will be monitored closely by other Norwegian operators.
WorleyParsons has recently developed a more generic design, a low-cost modular wellhead platform that can be adapted according to different fields' needs. It sees potential applications for at least 20 of these structures over the next 10-20 years in the Norwegian North Sea, and has held discussions with various operators on the concept's viability. The company also sees opportunities for the UK's stranded smaller offshore accumulations (known as 'small pool' fields), which are among the priorities of the Oil & Gas Authority as it seeks to maximize the UK's remaining hydrocarbon resources.
Early installations
Over the past 35 years the company has designed more than 100 minimum facilities platforms (MFPs): many, it claims, have become standard designs for the contracting operators, which have gone on to build and install a series of these unmanned wellhead facilities across their offshore fields.
One of the company's earliest projects was a braced monopod design deployed in the Perch and Dolphin fields in the Bass Strait offshore southeast Australia. This was notable for its gravity based substructure, intended to avoid the need to pile into the notoriously difficult calcarenite soils. For subsequent projects in waters offshore Australian and New Zealand, WorleyParsons pioneered designs that did not need a high-cost derrick barge for installation, with a jackup rig sufficient to install the structures. In these fields too the company gained experience in designing platforms for deeper waters, requiring minimal offshore intervention by operators and able to resist severe cyclonic storms and high seismic loads.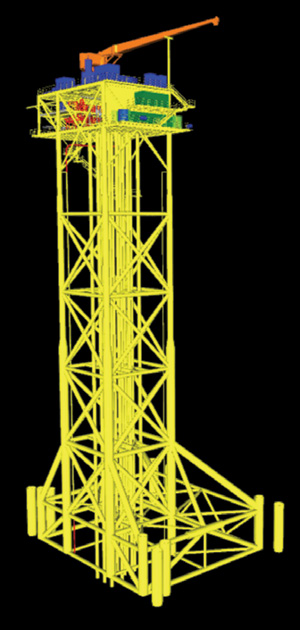 Above: Standard jacket configuration for the 60 m (197 ft) water depth case. Below: A recent design developed for 130 m (426 ft) water depth.

In Southeast Asia, the company has designed MFPs for all offshore basins, including the Gulf of Thailand where they have trialled various low-cost concepts across the last 20 years. These included a 'relocatable' lightweight tripod in 75 m (246 ft) water depth featuring a swaged connection to the external skirt piles (as opposed to a traditional grouted connection). This, along with other novel features, cut the offshore installation time down to two days.
Working in these basins the company gained experience of design and engineering of lightweight structures, and also entered collaborative relationships with various operators' drilling and well services departments to devise lower-cost, economic solutions for development of small marginal reservoirs.
More recently, it has worked on designs for offshore fields in the Middle East. One project for a major NOC showed the benefits that could be gained via economies of scale: this involved application of a "standardized" design at all the designated offshore drill centers. The '3S' platform, which stands for simplified, standardized and SIMOPs capable, has helped drive their offshore production expansion over the past eight years, WorleyParsons claims.
This is a 12-slot oil production facility, fully electrified, with electric submersible pumps (ESPs) typically deployed in each well. The substructure and supporting piles are suited to water depths ranging from 10-55m (33-180 ft). To date they have installed 69 completed 3S platforms, with a further 50 substructures installed and being drilled while the topsides undergo fabrication for batch installation.
North Sea needs
Based on its experience from these diverse locations and operating conditions, WorleyParsons wanted to produce a North Sea-capable design that would incorporate the benefits of its prior platforms. Advisian, the company's front-end design consulting group, has developed a new modular wellhead platform concept, targeted at fields in various water depths across the range 60-120 m (197-394 ft) and controlled remotely from a host platform, with no onboard accommodation, and no helideck. Maintenance crews can visit periodically from vessels fitted with a walk-to-work, motion-compensated gangway.
Although not a fixed contractual requirement, the platform is also designed for construction at WorleyParsons' all-weather covered yard in Rosenberg, near Stavanger which includes a 300-m (984-ft) long drydock, providing easy access to barges.
The modular lattice tower jacket incorporates launch rails and buoyancy chambers to self-right the jacket after launching prior to final positioning on the seabed and installation of the driven skirt piles. The length of the jacket and the number of external foundation piles can be adjusted to suit conditions at the offshore location with the 'tower section' a constant 15 x 15 m (49 x 49 ft) square. This enables pre-assembly of a stockpile of such structures, with only the base to be assembled once the site conditions and water depth are known.
There is provision for up to 12 conductors for any combination of production and injection wells, with development drilling performed by a jackup rig operating in cantilever mode. Above the water line, the integrated deck is equipped with a 10-metric ton (11-ton) crane with sufficient space for equipment laydown and material handling. The open layout is said to minimize blast overpressure, and the absence of flanges below deck is claimed to reduce the risks associated with evacuating maintenance or intervention crews in an emergency.
The platform can be controlled at all times from a host facility via a telecommunications/electrical power/chemicals umbilical link, with the host also supplying water or gas injection if needed. The jacket has been designed with one flat side to allow installation via barge launch, reducing the size of the installing derrick barge (this only needs sufficient crane capacity to handle the pile installation and lifting of the lightweight topsides). There is also an option to install the topsides via a jackup.
WorleyParsons envisages fabricated weights of typically around 650 metric tons (716 tons) for the topsides and 3,500 metric tons (3,858 tons) for the jacket in a 100-m (328-ft) water depth setting, similar to traditional North Sea wellhead platforms. The savings gained through this design will be primarily from the installation costs and the economies of scale achieved by using a rapidly deployable, standardized design.
According to a spokesperson for Advisian, "we see the North Sea as needing a new solution in an era of prolonged lower oil prices. Oil companies in Norway and the UK are interested in lower-cost satellite platforms, but there has been little focus on solutions for this region. Our new modular wellhead platform builds on our long offshore track record, but we also took learnings from other parts of the oil and gas industry, particularly the recent onshore shale gas developments where everything is standardized. There, if you need more processing, you bring in another standard module."
"Our design is modular, like Lego – it can be easily adjusted for deeper or for shallower water depths," the spokesperson noted. "And because the platforms are so standardized, the idea is to design one and build many: we think that once we've produced the first facility for a given customer, we can cut the cost of construction for the next one by 20% if the client has the need for two or more platforms in different water depths."