Norway leading greenfield project upsurge off northwest Europe
Statoil and AkerBP are leading a revival of offshore field development in northwest Europe, but exploration drillers need to deliver to sustain production levels.
May 2nd, 2018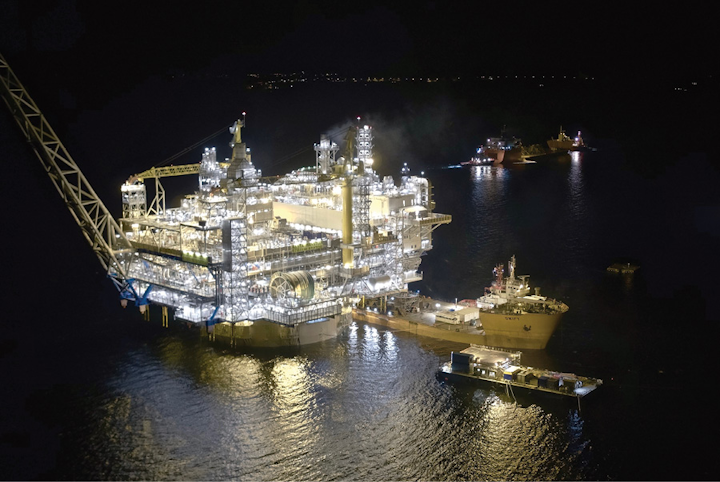 Majors, acquisitions driving activity elsewhere
Jeremy Beckman
Editor, Europe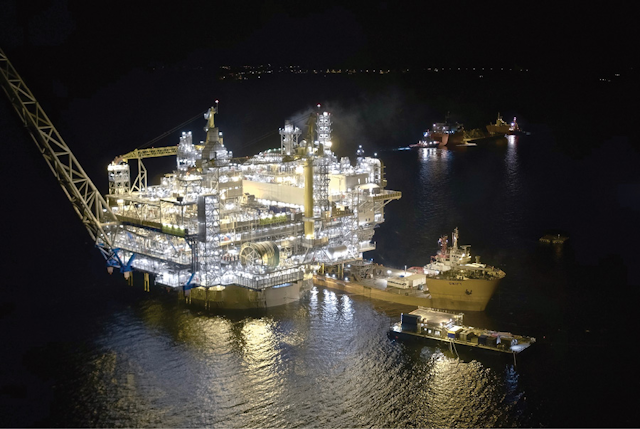 Aasta Hansteen assembly at night. (Image courtesy Statoil)
Nowhere has cost control been more a priority over the past three years than the North Sea area. As a result various major field developments have gone forward in Norwegian and UK waters since the latter part of 2017, and the volume of new upstream projects across the sector is probably the greatest worldwide. For the local service sector, particularly in Norway, the increased workload is a huge tonic, although concerns remain over prospects for the next decade, with recent exploratory drilling failing to replace declining reserves.
Statoil and Aker BP are leading the charge offshore Norway. Since December, Statoil and its partners have sanctioned developments at the following fields:
Johan Castberg in the Barents Sea: a winterized FPSO with 30 subsea wells, designed to recover 450-650 MMboe. The original concept was not viable, with a break-even oil price of $80/bbl, but the revised plans have more than halved total capex to NOK49 billion ($6.26 billion).
Snorre Expansion in the North Sea, designed to extend production from the Snorre field beyond 2040 and to recover a further 200 MMbbl. Rather than add a third platform, the partners opted to upgrade the Snorre A facility and to add 24 subsea wells, split equally between production and injection.
Askeladd, a three-well subsea tieback to the Snøhvit LNG infrastructure in the southern Barents Sea, to recover an additional 21 bcm of gas and 2 MMcm of condensate.
Troll Phase 3 in the North Sea: two subsea templates with eight production wells targeting as on the western part of the Troll field.
Johan Sverdrup Phase 2 in the North Sea – letters of intent to Aibel and the Kvaerner/Aker Solutions joint venture to respectively build the topsides for a second processing platform and a utility module for retrofit to the Phase 1 riser platform.
This summer, the company will look to start gas-condensate production through the world's largest spar platform at the Aasta Hansteen field in the Norwegian Sea. The water depth of around 1,300 m (4,265 ft) is the deepest for any Norwegian project to date. In late March, the topsides for the Martin Linge field platform, built in South Korea, recently sailed into Norwegian waters: Statoil recently took on operatorship of this project, which had been initiated by Total.
In March, Norway's parliament ratified Aker BP's programs for three new projects: Aerfugl and Skogul, subsea tiebacks to respectively the Skarv and Alvheim FPSOs, and a new normally unmanned wellhead platform on the Valhall field's western flank, a NOK5.5-billion ($702-million) program that should extract a further 60 MMboe. The company has also taken a stake in Fishbones, a Norwegian developer of technology that sends 12-m (40-ft) long needles from the wellbore into the reservoir formation to increase the wellbore drainage radius and the connectivity with natural fractures. It plans an initial application at Valhall.
Earlier this year the company's exploration well on the Frosk prospect close to Alvheim was unexpectedly successful, potentially adding 60 MMboe to the reserves pool in the area. There have been other recent successes for OMV, proving gas-condensate near Statoil's Asgard complex in the Norwegian Sea, with Wintershall also finding gas-condensate in deepwater in this sector. Last year's much heralded exploration drilling in newly opened areas of the Barents Sea, for which the Norwegian Petroleum Directorate had high hopes, was a major disappointment, although more companies are preparing to drill in the region this season.
UK fields upturn
Oil & Gas UK forecasts up to 16 new oil and gas developments in UK waters this year at a combined cost of around $7 billion. If all go ahead, this would match the total of new project approvals for the sector over the past three years. This year's intake is a mixture of greenfield and brownfield with potential to extract over 450 MMboe combined, although as the association pointed out, this would not sustain current UK offshore production levels over the long term.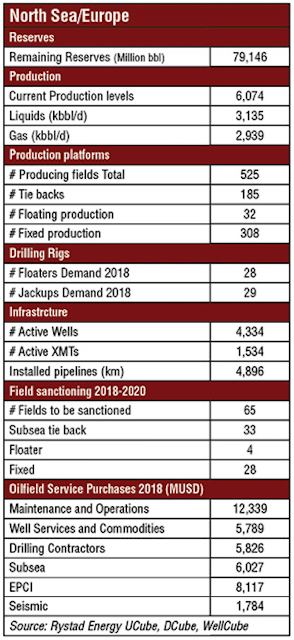 Exploration drilling remains subdued offshore the UK and reserves replacement has been modest – highlights over the past year were a near-field oil find for BP west of Shetland and an oil discovery for Statoil (Verbier) in a previously untested play in the central North Sea. However, Siccar Point Energy, which has been building a portfolio of interests west of Shetland, plans to drill an appraisal well shortly on the Cambo oil discovery (relinquished by discoverer Hess), with new partner Shell, and a wildcat on the Lyon gas prospect north of the Shetlands. Shell has been the main comeback story in the UK sector, with the company committing to redevelop its Penguins oilfield in the northern North Sea via an FPSO, and reviving plans for a subsea production system for its Fram oil field in the central North Sea.
Later this year, BP should begin production from its Clair Ridge project, via an additional platform at the giant Clair oilfield west of Shetland, while Statoil aims to start up Mariner east of Shetland, its first operated UK offshore development.
Danish sector activity has been dominated by acquisitions. Last summer INEOS took outright control of native producer DONG E&P and its various interests in the Siri area and elsewhere. Hess, one of the sector's major stalwarts, is negotiating a sale of its operated interest in the South Arne oilfield (in order to focus on deepwater Guyana). In March, Total completed its takeover of Maersk Oil & Gas, and Total has since decided to relocate its North Sea operations headquarters to Copenhagen. Its major task is the $3.36-billion redevelopment of Tyra, Denmark's largest offshore gas field, due to subsidence of the chalk reservoir that has caused the platforms to sink into the seabed by around 5 m (16.4 ft) over the past three decades. This is a two-pronged program that involves decommissioning and removal of certain facilities and modifications to others. McDermott is fabricating replacement topsides and new module support frames for the jackets at its Batam Island complex in Indonesia. Production from Tyra should re-start in 2022.
In the Dutch North Sea relative newcomer Tulip Oil has launched development of a shallow-water gas field in the Q quadrant. UK-based Hansa Hydrocarbons, which last year proved gas with a well in a new play close to the median line with German waters, was recently acquired by Discoverer Exploration. Elsewhere off north-west Europe, the fourth Faroese licensing round only drew one application, despite the work of the country's geologists to improve understanding of the surrounding basalt and volcanics that have hampered exploratory drilling in this area in the past. The government now plans to open offshore areas periodically for out of round bids.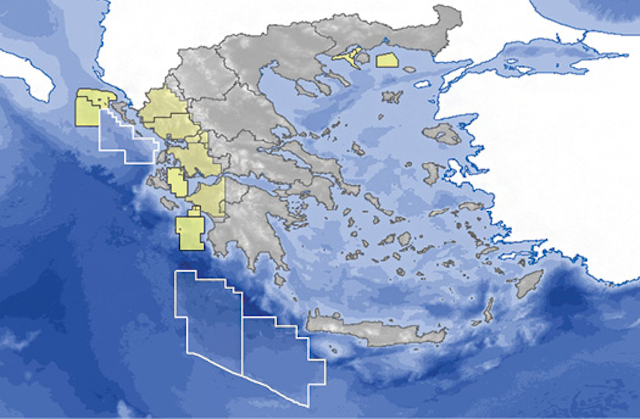 Newly awarded blocks offshore western Greece.
In the Baltic Sea, the Nord Stream 2 consortium continue to gain approvals form the various countries along the route of the proposed second trunkline system, designed to step up supplies of Russian gas to European markets. Allseas is contracted to lay the twin pipelines. In the Black Sea, Eni and Rosneft recently completed drilling the first deepwater well in the Russian sector, encountering a prospective carbonates structure, while OMV Petrom is pursuing plans for Romania's first deepwater gas development following successful drilling results with partner and operator ExxonMobil.
The eastern Mediterranean continues to attract the interest of the majors following the giant deepwater Leviathan and Zohr discoveries offshore Israel and Egypt. Total and Eni have jointly discovered more gas offshore southern Cyprus in the past few months to add to their Aphrodite field, but further drilling reportedly had to be grounded following an intervention by the Turkish Navy. The same partners were awarded blocks under Lebanon's first offshore licensing round.
Total was also part of a consortium that bid recently for an exploration permit covering two newly opened blocks offshore southwest and western Crete (the others were ExxonMobil and Hellenic Petroleum). Repsol/Hellenic have jointly applied for the Ionian block off western Greece.