Gas projects driving Asia/Pacific field development
Operators have brought mostly gas projects to sanction and first production throughout Asia/Pacific.
May 2nd, 2018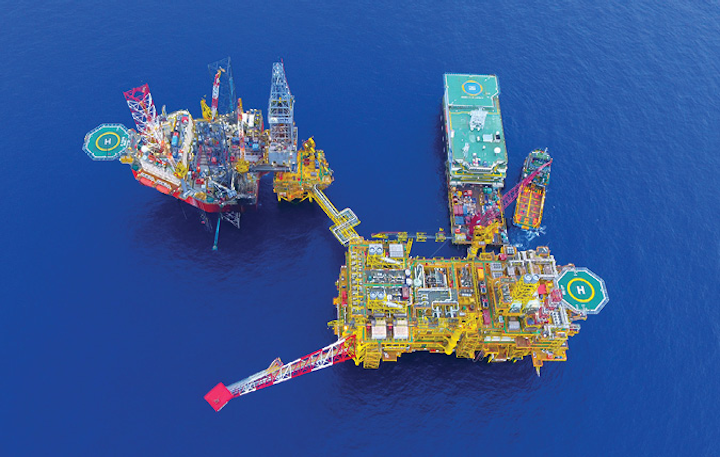 Jessica Stump
Assistant Editor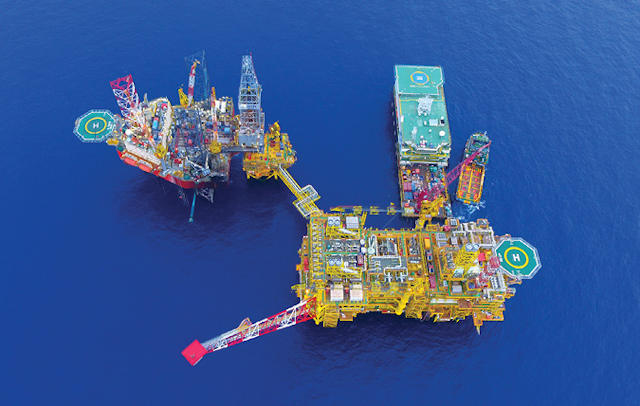 North Malay Basin consists of nine gas fields with combined recoverable reserves of more than 1.5 tcf of gas and over 20 MMbbl of condensate. (Courtesy Hess Corp.)
Operators have brought mostly gas projects to sanction and first production throughout Asia/Pacific.
Mubadala Petroleum and its partners Petronas Carigali and Sarawak Shell Berhad have reached the final investment decision for the Pegaga gas field development in block SK320 offshore Sarawak. The partners are expected to invest more than $1 billion into the project, with first gas targeted for 3Q 2021. Mubadala is the operator of block SK320 with 55% interest, Petronas Carigali holds 25%, and Sarawak Shell Berhad holds 20%.
Discovered in 2013, the Pegaga gas field is in the Central Luconia province in about 108 m (354 ft) water depth. The development concept calls for an integrated central processing platform consisting of an eight-legged jacket. The facility is designed for gas throughput of 550 MMcf/d plus condensate. The produced fluids will be evacuated through a new 38-in. subsea pipeline tying in to an existing offshore network and subsequently to the onshore Malaysia LNG plant in Bintulu.
CEO Dr. Bakheet Al Katheeri said this is Mubadala's first field development in Malaysia.
Sapura Fabrication Sdn Bhd. received the letter of award for the engineering, procurement, construction, installation, and commissioning contract for the platform.
Sapura Exploration and Production has produced first gas from the B15 field in the SK310 production-sharing contract (PSC) area offshore Sarawak. This is the company's first offshore development, and work was completed within two years of sanction. B15 was discovered in late 2010. Development is based on a processing platform with a 35-km (22-mi) export pipeline connected to the existing B11 infrastructure for onward transmission to the Malaysia Liquefied Natural Gas complex at Bintulu, Sarawak.
Operator Hess and partner Petronas Carigali delivered first gas from the North Malay Basin full field development offshore Malaysia. Located in block PM302 in the Gulf of Thailand, project comprises nine gas fields with combined recoverable reserves of more than 1.5 tcf of gas and over 20 MMbbl of condensate. Development involved installation of four wellhead platforms, aside from the central processing platform, intra-field and export pipelines and associated subsea isolation valve skids, a moored floating storage and offloading unit and drilling of 14 shallow production wells.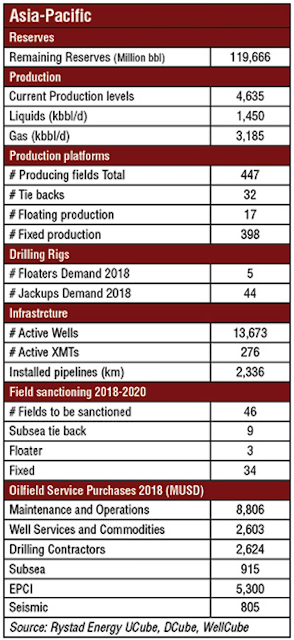 The Husky Energy board of directors has sanctioned Liuhua 29-1, the third deepwater field serving the Liwan gas project in the South China Sea. Production will be tied into the existing Liwan subsea infrastructure and the onshore Gaolan Gas Plant, and delivered to buyers in the Pearl River Mouth basin area. First gas is anticipated in 2021. Under the PSC, CNOOC Ltd. has the right to participate in any field development projects for up to a 51% working interest.
According to a report from analyst Wood Mackenzie, CNOOC has sanctioned the Lingshui development in the South China Sea. This is the first Chinese wholly-owned and -operated deepwater gas project.
Offshore Indonesia, Premier Oil expects to start development drilling early next year on the Bison, Iguana, and Gajah Puteri (BIGP) gas fields in the Natuna Sea. The company awarded an EPCI contract for BIGP in block A – involving subsea tiebacks to existing infrastructure – last October, and anticipates first gas during 2H 2019. Production will backfill the company's existing Singapore and domestic market contracts.
INPEX is preparing to start pre-front-end engineering design for the Abadi onshore LNG project in Indonesia. This will harness gas from the Abadi field in the Masela block in the Arafura Sea offshore Indonesia, and will provide annual LNG production capacity of 9.5 MM tons. The Abadi gas field is 150 km (93 mi) offshore Saumlaki in Maluku Province. Water depths for the planned development range from 400-800 m (1,312-2,624 ft).
In September 2015, INPEX submitted a revised plan of development envisioning a larger 7.5 MM tons/yr LNG processing capacity from a floating LNG vessel, but in April 2016, the authorities instructed the company to re-propose the POD based on an onshore LNG development scheme.
The long-awaited first gas from the Ichthys LNG project offshore northwest Australia is expected by the end of the month. According to operator INPEX, commissioning of the FPSO, subsea production systems, and the first train of the onshore liquefaction plant have finished; all wells have been drilled for start-up; and the 890-km (553-mi) subsea gas export pipeline is complete. Further commissioning will continue in the run-up to first gas from the offshore central processing facility (Ichthys Explorer). Then production and shipment of condensate, LNG, and liquefied petroleum gas will follow. •