E&P activity ramping up offshore eastern Canada
Newfoundland and Labrador's fourth offshore production facility recently began operations, and the fifth is on its way. Late last year Exxon Mobil Corp. started production from the Hebron oil field in the Jeanne d'Arc basin, 217 mi (350 km) southeast of St. John's. Exploration activities have also increased in the north Atlantic Ocean.
Mar 7th, 2018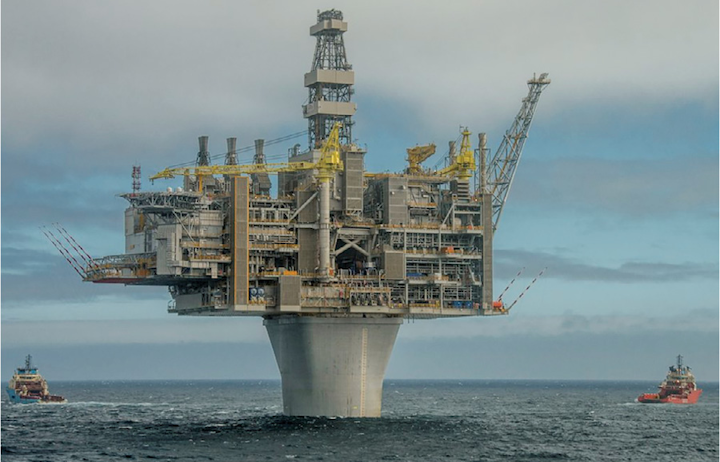 Jessica Stump
Assistant Editor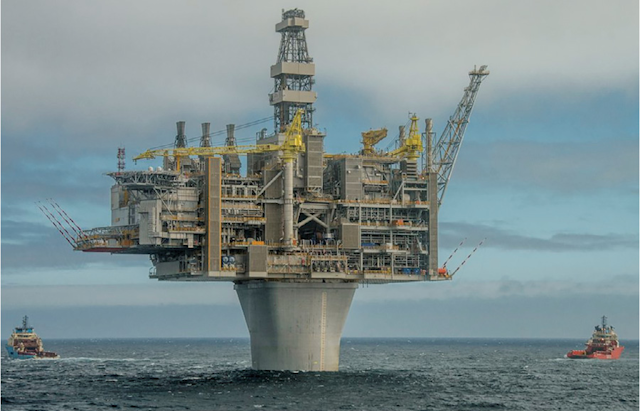 Hebron is Newfoundland and Labrador's fourth offshore production facility. (Image courtesy ExxonMobil)
Newfoundland and Labrador's fourth offshore production facility recently began operations, and the fifth is on its way. Late last year Exxon Mobil Corp. started production ahead of schedule from the Hebron oil field in the Jeanne d'Arc basin of the Grand Banks, 217 mi (350 km) southeast of St. John's. Water depth is about 300 ft (92 m). The Hebron platform consists of a stand-alone gravity-based structure (GBS), which supports an integrated topsides deck that includes drilling and production facilities and living quarters. The GBS consists of a reinforced concrete structure designed to withstand sea ice, icebergs, and meteorological and oceanographic conditions. At peak rates, the Hebron platform will produce up to 150,000 b/d and store 1.2 MMbbl of oil. Hebron is estimated to contain more than 700 MMbbl of recoverable resources. According to Rystad Energy's UCube, Hebron could account for approximately half of Canada's offshore crude production by 2020.
Discovered in 1980, ExxonMobil and its partners sanctioned the $14-billion project on Dec. 31, 2012. Hebron is operated by ExxonMobil affiliate, ExxonMobil Canada Properties, which holds 35.5% equity in the project. Co-venturers are Chevron Canada Ltd. (29.6%), Suncor Energy Inc. (21%), Statoil Canada Ltd. (9%), and Nalcor Energy-Oil and Gas Inc. (4.9%).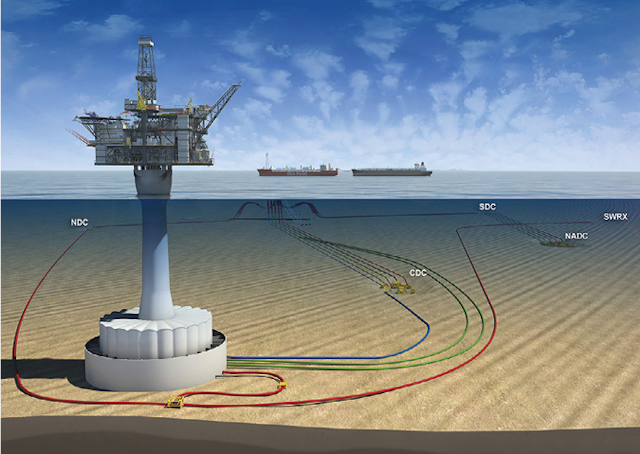 The West White Rose project will feature the province's fifth offshore production facility. (Image courtesy Husky Energy)
The Hebron project contracted hundreds of vendors throughout the province of Newfoundland and Labrador, according to ExxonMobil, and created about 7,500 jobs during the peak of the construction phase. The project achieved more than 40 million hours without a lost-time injury during construction.
Husky Energy and partners Suncor Energy and Nalcor Energy-Oil and Gas are moving forward with the West White Rose project offshore Newfoundland and Labrador. The $1.6-billion development calls for a fixed wellhead platform consisting of a concrete gravity structure (CGS) and an integrated topsides tied back to theSeaRose FPSO. First oil is scheduled for 2022, with an expected peak production rate of about 75,000 b/d in 2025.
According to Husky CEO Rob Peabody, "We've made significant improvements to the project since it was first considered for sanction, including identifying numerous cost savings, achieving a 30% improvement in capital efficiency and increasing the expected peak production rate by 40% over our initial estimate."
With the tieback to theSeaRose, the company claims, incremental operating costs are expected to be less than $3/bbl over the first 10 years, further lowering overall operating costs per barrel for the entire White Rose field as the project ramps up. The main White Rose field is 217 mi east of St. John's, on the eastern edge of the Jeanne d'Arc basin in water depths of 393 ft (120 m).
Husky Energy has contracted the consortium of SNL-Lavalin, Dragados Canada, and Pennecon to build the CGS for the wellhead platform. A purpose-built dock in Argentia, southwest Newfoundland, will assemble the 476-ft (145-m) tall structure, which is estimated to weigh 210,000 metric tons and feature 76,000 cu m (2.69 MMcf) of concrete. Construction is due to be completed in 2021. Kvaerner will manage engineering and marine operations for the tow and installation of the CGS. The company will perform engineering, analysis, planning, and execution of marine operations for the tow/installation, and will also be responsible for installing the CGS at the seabed location on the Grand Banks. Installation is scheduled for 2Q 2021. Husky has also contracted the heavy-transport vesselDockwise Vanguard to deliver the barge containing the topsides from the fabrication yard in Texas. Wood Group Canada Inc. has contracted Akastor subsidiary MHWirth to supply drilling equipment, engineering, and services.
TechnipFMC has secured the engineering, procurement, construction, and installation contract. The scope covers supply and installation of subsea equipment including tie-in manifolds, flexible flowlines, and control umbilicals to connect the new West White Rose platform to the existing FPSO.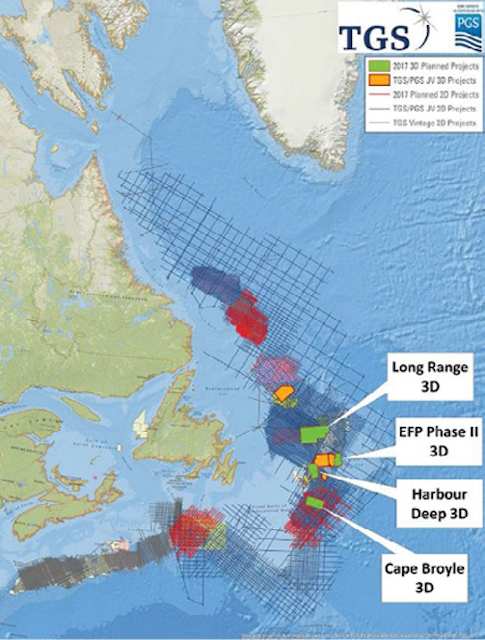 TGS and PGS conducted four 3D seismic surveys offshore eastern Canada last year. (Map courtesy TGS)
As for drilling, Husky made a new oil discovery at Northwest White Rose. The White Rose A-78 well was drilled about 6.8 mi (11 km) northwest of theSeaRose FPSO in 1Q 2017 and delineated a light oil column of more than 328 ft (100 m). The discovery continues to be assessed. Husky has a 93.2% ownership interest. A potential development could tie into the SeaRose FPSO, existing subsea infrastructure, and the new West White Rose platform.
Late last year, the company brought forward two infill wells originally planned for 2018, following drilling and installation efficiencies. The first, drilled at the main White Rose field at the end of 3Q, is now on production. A second well at North Amethyst is currently drilling, with first oil anticipated in early 2018. This year, the company plans to drill two other infill wells. The first will likely be at the North Amethyst satellite extension during the first quarter, followed by a second well at the main White Rose field in the summer. It estimates a net peak production rate for each well at 4,400 b/d.
However, the Canadian-based company suffered a setback last month. The Canada-Newfoundland and Labrador Offshore Petroleum Board (C-NLOPB) ordered Husky to suspend operations of itsSeaRose FPSO and associated production facilities. This decision relates to an incident on March 29, 2017, when an iceberg entered the 0.25 nautical mile Ice Exclusion Area of the FPSO. There were 84 personnel and about 340,000 bbl of crude oil onboard at that time. In accordance with Husky's Ice Management Plan (IMP) filed with the C-NLOPB as a requirement of the company's operations authorization, the FPSO should have disconnected and sailed away from the iceberg. According to the C-NLOPB, that action was not taken, and personnel were at one point instructed to muster and 'brace for impact.' Ultimately, the iceberg did not contact the FPSO or subsea infrastructure. There were no injuries, no environmental damage, and no damage to the facility.
The board's chief safety officer (CSO) issued a notice of non-compliance to the company for failing to comply with its IMP, along with an order to comply. Husky submitted its final investigation report into the incident on April 27, 2017, and a formal enquiry was launched by the regulator on May 9, 2017.
The C-NLOPB said that the decision to suspend operations was taken because of the preliminary report findings, which included: Husky did not follow its IMP; onshore senior management did not ensure the IMP was followed; and the offshore installation manager failed to disconnect in accordance with the IMP. The board determined there are serious issues with the company's ice management, management systems, and organizational decision-making. Based on the enquiry's preliminary findings, the regulator said that it lacks full confidence that appropriate action will be taken by the operator during an emergency.
The FPSO's petroleum-related operations will remain suspended until the board is confident that corrective and appropriate actions related to its ice management, management system, and organizational structure have been addressed to the satisfaction of the CSO and chief conservation officer.
"We could have and should have responded differently according to the pre-existing plan, and we will learn from this incident," said Peabody, the company's CEO. "We will work with the C-NLOPB and take the actions necessary to satisfy the regulator."
Exploration activities have also increased in the north Atlantic Ocean. For the seventh consecutive year, TGS and PGS acquired seismic offshore eastern Canada. Last year's campaign comprised of 13,670 mi (22,000 km) of 2D data and four 3D projects of about 6,950 sq mi (18,000 sq km): Cape Broyle 3D, East Flemish Pass 3D Phase II, Harbour Deep 3D, and Long Range 3D. These will be included in the November 2018 licensing round under Newfoundland and Labrador's scheduled Land Tenure system. Following completion of these surveys, the jointly-owned library will have more than 108,740 mi (175,000 km) of 2D GeoStreamer data and 11,004 sq mi (28,500 sq km) of 3D GeoStreamer data.
In addition, Fugro teamed up with Amplified Geochemical Imaging (AGI) to acquire hydrocarbon seep data off the country's east coast. Bathymetry, backscatter and water column anomaly data collection is under way to pull together a comprehensive picture of surficial geological features. The geophysical vesselFugro Discovery is performing the seafloor mapping and includes acquisition of 4,054 sq mi (10,500 sq km) of multibeam echo sounder data and sub-bottom profiler data. This will be followed by coring up to 150 geochemical targets and 20 heat flow measurements, complete with shipboard geochemical screening testing, further shore-based geochemical analyses (carried out by AGI) and an integrated, interpreted data package. AGI's geochemical analyses will determine the hydrocarbon signature of the samples. The comprehensive data package is expected to be available early this year and is being licensed from both companies.