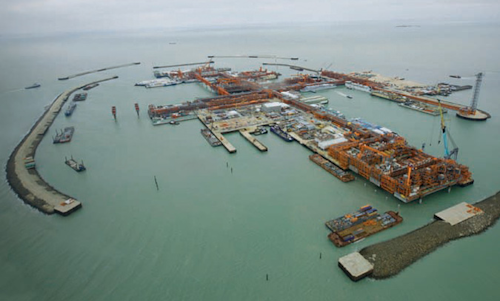 Jeremy Beckman
Editor, Europe
'Re-engineering the oil and gas operating models' was the theme of this year's recent International Petroleum Week conference, organized by the Energy Institute in London. According to Yashar Latifov, VP for Field Development at SOCAR, that concept resonates well with what his company and Total are trying to achieve with the Absheron development project in the Azeri sector of the Caspian Sea.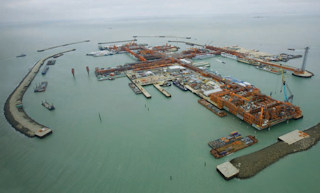 Aerial view of the Kashagan phase 1 production complex. (Photo courtesy ExxonMobil)
Latifov, speaking during the session 'Future scenarios for oil and gas in Russia and the CIS', reminded the audience that Azerbaijan's Oil Rocks (Neft Dashlari) project was probably the first offshore field development anywhere, following its discovery in 1949, and still in service today. After the break-up of the Soviet Union, Azerbaijan entered a period of unprecedented oil and gas production growth from the 1990s onward, he said, thanks to the ACG and the later Shah Deniz field developments in the Caspian Sea, "helped by a consortium of foreign companies. Today, both projects provide a significant part of our production." Going forward, SOCAR (Azerbaijan's state oil company) is looking to keep the country's liquid hydrocarbons production stable, he said, and at the same time enhance and increase its gas production.
Since 1991, Oil Rocks has consistently delivered 600-700,000 t of oil each year, Latifov claimed. "Last year, however, we embarked on an intensive drilling campaign designed to boost output to 1 MMt/yr. The Oil Rocks complex also acts as a hub for gas from the shallow-water Gunashli field and associated gas from the ACG fields."
Absheron is 100 km (62 mi) south of Baku, in between ACG and Shah Deniz. Total first entered a production-sharing agreement with SOCAR for the license area in 2009; the first exploration well was a dry hole, which led to the PSA being terminated. However, the two companies later decided to reassess the potential resources, Latifov said, making use of subsequent advances in geoscience. They decided to re-visit the area, drilling the Absheron X-2 well in 2011 that led to the major discovery. The field is thought to hold 350 bcm of gas and over 45 MM metric tons (49.6 MM tons) of condensate.
Following the declaration of commerciality, in accordance with Azerbaijan's PSA regime, development planning started soon afterwards. The partners put together a program involving four or five subsea wells tied to a single-stage separation platform in 90 m (295 ft) water depth – the field is in 450 m (1,476 ft) of water - with 120 km (74 mi) of condensate, gas and water pipelines and a new onshore reception terminal. The preference was to export the condensate westwards through the BTC (Baku-Tbilisi-Ceyhan) pipeline system and the gas through the Southern Gas Corridor system.
The planning process took two and a half years, with an estimated price tag for the project of $5 billion, and a target of first gas in 2022. However, an appraisal well would first be needed to de-risk the reserves range, with 300 MMboe considered the minimum viable (800 MMbboe was the upper-end estimate). "Technically," Latifov said, "it was a viable solution, but it was not necessarily the best or most favorable." That view gained increasing credence during the subsequent oil price crash of 2014-15, at which point SOCAR approached Total about an alternative value engineering exercise.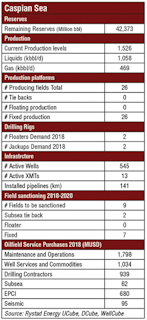 "Absheron is 35 km [22 mi] from the Oil Rocks facilities which had ullage available. We suggested, instead of going for an 'elephant' type field development, why not take a staged approach starting with an early production system connected to a single well? This could be [dual-purpose], with an initial appraisal leg to locate the field's gas-water contact followed by another leg drilled into the crest of the structure for production purposes, allowing production to start earlier, around 1Q 2020. And instead of paying $5 billion, we could do this for $1 billion."
Total agreed to the premise: then followed a three-month exercise of concept screening and pre-front end engineering design. "We have now established a commercially and technically viable scheme that reduces the cost of production and halves the price at which the gas can be sold," Latifov said, "generating a better return for our investors. It's a win-win situation, connecting a complex deepwater development – the 'future' – with the Oil Rocks (the 'past')." A new semisubmersible rig under construction in Baku, equipped for high-pressure operations, is due to drill the appraisal/development well which will produce at a rate of around 35,000 boe/d. The produced gas will reportedly head onshore for processing, some for use domestically, the rest exported through the South Caucasus pipeline, while the condensate will be sent to a new petrochemical complex in Baku.
SOCAR is also working on solutions for other discoveries in the Azeri offshore sector, Latifov said. One is for further development of the Umid gas-condensate field, discovered in 2010 and co-developed with Nobel Oil: the initial facilities, which started operating in 2012, were a platform with three producer wells. The next stage will be to add a second platform with four more wells, lifting gas production to 3 bcm/yr.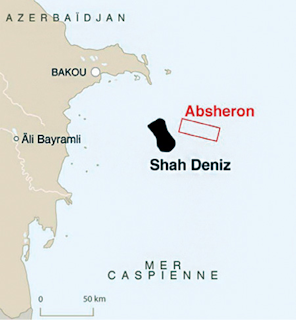 Absheron field location. (Map courtesy Total)
Another project concerns the Karabakh oil and gas field, 130 km (81 mi) east of Baku and 15 km (9.3 mi) northeast of ACG. Here Lukoil and Agip drilled three wells in the 1990s, Latifov said, two of which found gas, and one oil. However this was at a time when the oil price sank at one point to $9/bbl, and the challenges involved caused the two partners to exit the PSA. In 2013, Statoil approached SOCAR to re-examine the field and to look at new ways of processing the wellstream. "We now see more confidence to go for a full-scale project," Latifov said, "and we expect first production in 2021."
Kazakhstan on growth path
Olivier Lazare, VP and chairman for Shell in Kazakhstan, speaking in the same session, pointed out that the country was "very big, but also very young, and eager to grow and take its place on the world stage…Following independence in 1991, it has grown rapidly due mainly to its oil industry. It is now an upper-middle income society…seen as a beacon for other countries in central Asia."
To attract investors Kazakhstan has strongly reduced its bureaucracy, Lazare continued. Its estimated resources from fields onshore and offshore in the Caspian Sea are around 30 Bboe, and its current production of 1.7 MMb/d accounts for 2% of the global oil supply. Following the oil price downturn in 2014, state revenues fell steeply, while during the preceding eight years domestic energy consumption had increased by 6%. It has since been a major challenge sustaining supplies for both domestic and export purposes, Lazare pointed out.
"However, the country has a very ambitious strategy," he said, "having in 2015 introduced widespread legislative and economic reforms to allow Kazakhstan to join the OECD." For several decades to come, hydrocarbons will play a vital role in the country's development, he added, with production of oil set to climb in the next few years, and also gas as the government seeks to extend the gas network to other parts of the country.
Shell is also a member of the North Caspian Operating Co. responsible for the giant shallow-water Kashagan field.
During 2017, output from Kashagan grew much faster than anticipated, Lazare said, averaging 225,000 b/d. "It's still growing rapidly, with injection of raw, sour gas into the reservoir since last September, and each month breaks records for production of oil in particular. And the production data helps us to understand the field and to define the next stages of the development.
"We are always asked, when is it going to reach 1 MMb/d? But our priority is safety, because this is a very high-pressure sour gas field, and although raw gas injection is a very sophisticated technology, it takes a while to make it reliable. We plan a step-by-step, discretionary stepping up as we move forward and improve our understanding of the subsurface."