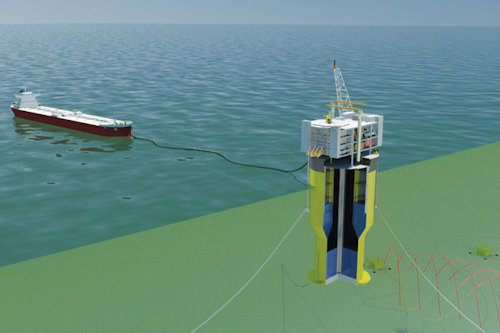 Jeremy Beckman
Editor, Europe
Atkins has developed a reusable floating platform that can operate on small stranded fields in harsh environments. The London-based engineering company, acquired last summer by SNC-Lavalin, recently secured a United States patent for its Deep Draught Production, Storage and Offloading (DDPSO) concept, having earlier gained a GB patent in recognition of the hull form. This is said to provide a stable platform, combining oil storage with a weight-efficient, low-cost hull. Various North Sea operators have considered the concept for marginal field developments, including Fyne and Vette.
The symmetrical hull incorporates an 'oil-over-water' philosophy to store stabilized crude after processing, with a minimal water ballast system requirement. The combination of the hull dimensions, fixed solid ballast and topsides mass results in a high natural heave period, Atkins claims, leading to reduced motions and loads in heavy seas. Paul Gallagher, the company's Director of Field Development & Consulting in Engineering & Consulting, outlined to Offshore the progress to date and future plans for the DDPSO, drawing on SNC-Lavalin's facilities engineering and project management capability.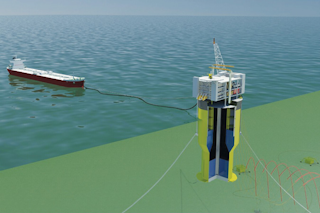 A DDPSO offloading to a tanker. (All images courtesy Atkins)
Offshore: What is Atkins' background in the design of floating offshore oil and gas systems – had the company produced generic designs prior to the DDPSO?
Gallagher: Atkins has a long history in the analysis and design of offshore floating systems, from the late 1970s onwards.The company originated the AQWA suite, now part of Ansys, the world's first and most comprehensive suite of hydrodynamics software, and has been involved in many pioneering projects in marine technology through to the present day with clients such as ExxonMobil, BP, Shell, and SBM.In 2014, the company acquired Houston Offshore Engineering and the team responsible for the design and engineering of more than half of the world's TLPs, as well as numerous semisubmersibles and spar designs for the Gulf of Mexico and West Africa, most recently Hess' Tubular Bells spar and Total's Moho Nord platforms.We have a large team of naval architects, offshore engineers and floating structures specialists, working between its offices in London and Houston.
The DDPSO is one of numerous unique designs the company has developed over the past five years, which include a paired column dry-tree semisubmersible, a dual-column TLP, and the FPS – a deep-draft semi with oil storage. Most recently, the Houston office has collaborated with Audubon Engineering and Gulf Island Fabricators to form the US SPARS group, specializing in low capex minimal facilities solutions for deepwater.
Offshore: What is the specific background to the development of the DDPSO?
Gallagher: Some while back, Atkins had been involved in the Solan project west of Shetland with Chrysaor and Premier Oil, developing the subsea storage tank that was ultimately built for that project. At that time the subject of marginal, stranded fields and re-usable production facilities was high on the agenda among the smaller and independent North Sea area oil companies.
The oil-over-water storage solution employed for the Solan tank provided inspiration first for the FPS, a deep draft semi with oil storage in its pontoons (this concept was taken to a quite advanced hull design level with the operator Premier), and second, a much simpler, low-cost crude oil storage and offloading buoy for wider application with separate standalone production facilities of all kinds.
The DDPSO came out of further work to add a production topsides facility to the simple storage and offloading buoy solution, the question being, was there a weight and center of gravity limit to what could be achieved?While working with our parametric design model, the very specific features needed to combine stability and high heave natural period became apparent, and some innovative ideas were fleshed out in support of those objectives.We were advised that the DDPSO presented some clear inventive steps that were worth protecting by our Patent Agents, and so we saw the potential to take the idea further
Offshore: Was Antrim Energy's heavy-oil Fyne project in the UK North Sea the first stab at a commercial application of the DDPSO?
Gallagher: Yes: we had been working with both Antrim and Premier on Fyne with the FPS solution mentioned above. But following more detailed well testing, it became apparent that the recoverable reserves in Fyne were not as high as originally anticipated and Premier withdrew. Subsequently, Antrim came back to us to ask whether we had any other ideas, specifically for a much smaller production rate and therefore affordable capex.We brainstormed numerous solutions from our internal studies, including the DDPSO.After a concept study to size the topsides required and match it to the hull, it became apparent that it was a good candidate solution.
Offshore: Although neither Fyne nor Premier's Vette in the Norwegian sector went forward, were the designs Atkins came up with for these projects targeting break-even at a much lower oil price, in line with what is being achieved currently in the North Sea area?
Gallagher: The break-even measures typically applied at the time were in the $60-$70 range.Opex was of course a significant element and generally much higher than the levels being achieved now, a factor that makes exact comparisons difficult. For Fyne, the limiting factor for the DDPSO was the water depth and mooring system design.Ultimately, the need to retain the right hull form proportions was the driver for the volume of oil that could be stored.However, in that case, the combination of the small geometry and low steel weight delivered the kind of low capex that Antrim was looking for.
As for Vette the water depth was greater and the storage volume achievable went up to 300,000 bbl. The topsides weight/payload that hull geometry could accept exceeded 5,000 metric tons (5,511 tons), which suited the larger field and the anticipated production volumes well.
Offshore: Is the company working with other operators on marginal projects at present that have a better chance of going forward?
Gallagher:We have had further interest from a number of operators over the last few years including some of the major IOCs.We are also talking to the Oil and Gas Technology Centre in Aberdeen concerning the UK's small pools initiative.We are expecting a greater level of confidence in the market going forward, but based on a clearer understanding of the need for constraint on capex and retaining the benefits in reduced opex seen over the past three years. The DDPSO fits well with these drivers we believe.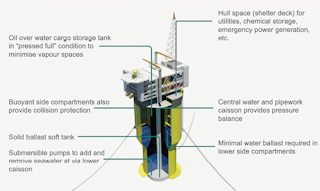 Design basis: hull internals.
Offshore: What are the current break-even prices you could achieve with the DDPSO, depending on the size of the field and the quality of its hydrocarbons?
Gallagher: There are many factors that affect price other than the capex/opex of the facility itself, for example, the number of wells and production rates.The so-called break-even price can therefore be misleading; the internal rate of return and/or time to break-even being just as important. Drilling and subsea/well completion costs represent at least as much of an issue as the capex and operating costs for such facilities. The productivity of each well is also critical, as is the overall rate of depletion, particularly for fields that are likely to be short lived.
Our scenarios work on a range of reserves up to 50 MMbbl, and initial production rates of 20-25,000 b/d, which for typical North Sea developments indicates break-even between three and four years, and a return of 50% on total investment (TIC) after 10 years, at an oil price of $50/bbl. With $60 oil, break-even might typically be achieved in around three years with a return of 100% of TIC.A small independent oil company might find this an attractive proposition, while for a major operator, this would be only one of numerous projects competing for funding.
Offshore: Is the DDPSO suited solely to oil fields or to gas accumulations as well?
Gallagher: The DDPSO is specifically aimed at oil production facilities that need liquid storage for stranded fields with no export route.However, a solution could be feasible for storage of liquid gas condensate from gas fields, with gas export by pipeline, combined with a topside providing gas treatment and compression.
Offshore: How does SNC-Lavalin plan to help Atkins take the development forward?
Gallagher: SNC-Lavalin brings a huge amount of experience in major projects, EPC and operations to complement Atkins' offshore design expertise.It's not just the DDPSO that might benefit from this, but potentially all our concepts for deepwater production facilities and novel FPSOs.For Atkins' clients, the new opportunity is to have a major, proven, EPC project delivery company behind these concepts.
Offshore: Would the DDPSO need to be constructed at certain types of fabrication yards with a special philosophy?
Gallagher: No: the structural layout of the hull is based on some quite conventional principles in ship-stiffened plate construction, and is particularly well suited to the sort of modular assembly that has been used at many shipyards for decades. The hull would be constructed on its side, floated off horizontally and up-ended, much like conventional spars, prior to the topsides being installed.There is a requirement for reasonably deepwater in which to perform that operation, but the hull could be built almost anywhere in the world and if needs be, transported by barge or heavy-lift vessel.
The topside is intended to be a conventional, integrated facility, very similar to the arrangement for a fixed platform.It can therefore be constructed and tested separately from the hull, and installed either by heavy lift or float-over, prior to commissioning.
This combination of a novel hull form with a very conventional design of topsides process facility is one of the chief advantages of the DDPSO.It de-risks projects and allows reduced construction time, as the hull and topsides can be built in parallel.It also offers further advantages in terms of later re-use of the hull.
Offshore: What configurations you are working on at present for the DDPSO – are there limits to the number of wells, fluids processed, water handling/reinjection?
Gallagher: The principle configurations that we are interested in at the moment are those that take advantage of its low motions and harsh environment capability for marginal fields or early production facilities. So applications West of Shetland or Northern North Sea, where smaller ship-shaped solutions might be challenged by the environment, are an area of focus.
Other scenarios that we have evaluated include (a) using the DDPSO to prove up larger fields in order to generate cash flow early and (b) using the DDPSO to produce directly into a semi-permanent shuttle tanker for the first one to two years of field life, making use of its own storage capacity for the short periods while the shuttle tanker is away offloading.This latter scenario would allow the operator to take full advantage of the initial peak years of production, say between 40 and 50,000 b/d, and once that peak has passed, be left with a smaller production facility better suited to efficient longer-term off-peak production rates.
The number of wells is more of a subsea layout matter, since there are always options to gather a subsea complex of wells with a manifold from which a reduced number of flexible risers can be used to transfer well fluids to the facility.All other elements, such as the types of fluids processed and the need for water injection are the same as any other facility for which oil-over-water storage would be considered viable.
Offshore: How is offloading of oil performed?
Gallagher: There is a choice of offloading methods.The original configuration developed involves using a single off-loading reel – this is common on circular geometry FPSOs.Alternatively, it is possible to offload via a remote single anchor loading (SAL) system or similar.Over the longer term, those systems that work best in combination with a minimal manning philosophy would be preferable.
Offshore: Can you explain what is meant by an 'oil-over-water' philosophy?
Gallagher: The oil-over-water approach has been known for some time and is most commonly used in subsea storage tanks, such as the one Atkins designed for the Solan field.It is a method whereby the produced, stabilized crude oil floats on top of sea-water within the tank.As the oil is produced and introduced at the top of the tank, an equal quantity of the lower, seawater volume is pumped out.The tank is therefore always full of liquid, with oil at the top and seawater below, and an interface that moves down during normal production, and up during offloading.

Construction life cycle: fabrication and transportation.
Offshore: Why should higher water cut issues be common to marginal fields – or is a high water cut one way of defining a marginal field?
Gallagher: With North Sea fields there is often a significant amount of water within the reservoir fluids from which the oil is extracted by separation.Marginal fields tend to be smaller and with shorter producing lives, and the proportion of water tends to rise fairly rapidly after a few years of production. So commonly, the total volume of liquids that comes up from the reservoir is maintained at a fairly constant level, but the proportion of oil drops.And after 10 years of production the proportion of oil within the liquids being processed can often be less than 30% of the total.
At some point, it may not be physically possible to get all of the water out of the fluids being processed.There is some benefit therefore with oil over-water storage that any excess water will ultimately settle out within the storage tank.As mentioned in our patents, an integrated long residence time, heated, settling cell between the final stage of separation and the main storage volume, can be included to address this problem.
Offshore: The hydrocarbons vapor risk is said to be minimized as the cargo tank is permanently pressed full – can you explain how?
Gallagher: With FPSOs and crude oil tankers, even though the crude stored and transported is largely stabilized, there is a risk that flammable vapors can develop in the space above the surface of the stored liquids.As such it is common to supply an inert gas to that space in order to mitigate the risk, and/or supply venting systems. With crude oil carriers the cargo tanks are filled as full as possible, and the design of the tanks is aimed at minimizing the space above the liquid stored (i.e. pressed full).
For FPSOs however, with the tanks being filled and emptied on a regular basis, this is more difficult to manage, so considerable attention goes into the design and management of the cargo inerting and venting systems.
But with oil-over-water storage the crude tanks are always full: it's simply the proportion of oil on top, and seawater below, that changes during operation. The design of the DDPSO has taken advantage of this with the tanks being "press-full" to keep the free surface and the vapor space above it to the absolute minimum.
Offshore: How is the patented hull form unique, and how do the buoyant side compartments improve collision protection?
Gallagher: First, on the matter of collision protection – there is a general damage stability requirement for mobile offshore production units to provide collision protection and compartment subdivision around the water-line.So, there is nothing particularly new about this feature of the design – all floating systems have some such arrangement. The hull shape came about specifically from the need to maintain as high a center of buoyancy as possible, provide stability, ensure a high heave natural period, and to minimize wave loading.
Conventional/circular FPSOs have a center of gravity above their center of buoyancy, and rely on the properties of the water-plane to give upright stability – as do most all ships in fact.They employ large amounts of water ballast to manage draught and the position of the center of gravity through all loading conditions. Spars on the other hand, have practically no water-plane, and so rely on so-called "submarine stability" – i.e. their center of gravity is well below their center of buoyancy (by at least 10 m/33 ft or more), and they achieve that with solid fixed ballast placed at the lowest point of the hull.
For the DDPSO, the oil storage is arranged so that there is very little change in mass and center of gravity through the full loading cycle.This largely reduces the need for extensive water ballast tanks, and therefore saves on hull volume and steel-weight.There is a small amount of water ballast provided to compensate for the difference in density between oil and water.These much smaller tanks are located at the lowest point of the side compartments, in line with the cargo tank center of gravity. The center of mass for the whole system therefore remains fairly constant, as does the position of the center of buoyancy.The water-plane is then selected to give stability and a low heave natural period.The deep draught, although only around half that of a conventional spar, still gives rise to much reduced vertical heave excitation in waves, and the use of heave plates also contributes to raising the heave natural period and providing damping.
Offshore: Is the platform's re-use factor such a selling point these days, now that the oil price is higher?
Gallagher: Yes, and particularly since marginal fields are invariably short-lived such that permanent infrastructure such as fixed platform structures and export pipelines are less attractive. A key attraction of any floating system is the ease with which it can be decommissioned and removed, and then re-used on another field. The DDPSO is no exception to this.
Offshore: Can you provide updates on current developments and next steps for the concept?
Gallagher: One of our ongoing areas of focus is simplifying and lowering the costs of the topsides by reducing weight: the lighter the topsides, the more efficient the hull design can be and hence further reduce capex. The DDPSO does afford some extra flexibility in the level of oil/water separation that is needed (since this process will continue during storage), so there is scope to reduce costs using a less complex and more flexible process design philosophy.
Another priority is development of remote, unmanned, operations that make best use of the benefits of oil-over-water storage. The oil-over-water storage system is inherently safe and simple to operate remotely, as has already been proven with the Solan seabed tank. So we think that the DDPSO combines a number of features that make it well suited to operation as a normally unmanned installation.
Design optimization studies for the hull form are ongoing to allow us to rapidly size the hull for different, topsides weights, storage requirements, water depths and metocean environmental data. Atkins is very confident in the performance of the DDPSO, not least because it obeys some of the most well understood principles in hydrodynamics, all of which have been well validated by both computation and testing. But it would be helpful to perform physical testing to help prove the effectiveness of some of our more advanced ideas to improve performance further, arising from our hull form optimization work.